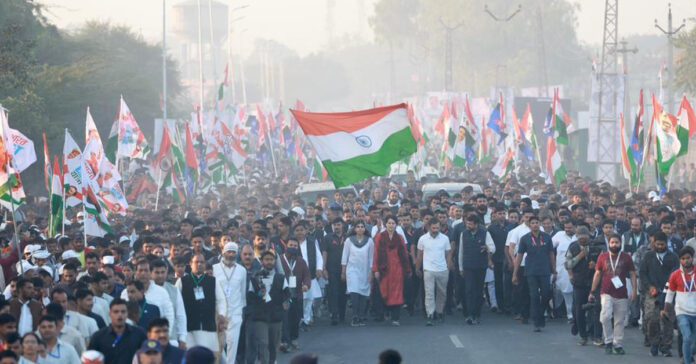 The Congress's Bharat Jodo Yatra led by Rahul Gandhi resumes the march from Jeenapur, Sawai Madhopur, Rajasthan.
The padayatra, which started from the Jeenapur area of Sawai Madhopur district will continue till the Dehlod area on Tuesday.
Rajasthan is the only Congress-ruled state where the yatra will cover around 500 km over 17 days before entering Haryana on December 21.
Congress tweet
#BharatJodoYatra is creating new history everyday on the holy land of Rajasthan. The people of the state are joining step by step in this journey with great enthusiasm so that the country can be united. With the rhythm of these steps, today the yatra will decide its historic journey from Jeenapur to Dubbi Banas village.
#BharatJodoYatra राजस्थान की पावन धरा पर नित नए दिन नया इतिहास रच रही है। प्रदेशवासी बड़े ही हर्षोल्लास के साथ इस सफ़र में कदम से कदम मिला रहे हैं ताकि देश एकजुट हो सके।

इन्हीं कदमों की ताल के साथ आज यात्रा जीनापुर से होते हुए दुब्बी बनास गांव तक अपना ऐतिहासिक सफ़र तय करेगी। pic.twitter.com/qi86QhWVEx

— Congress (@INCIndia) December 12, 2022
ALSO READ: Rahul Gandhi resumes Bharat Jodo Yatra from Bundi, Rajasthan