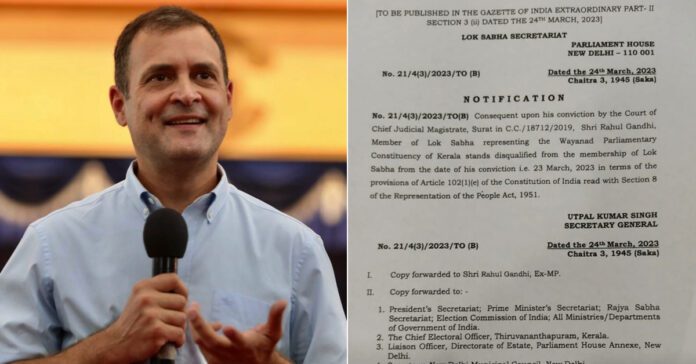 On Thursday, Surat court sentenced Congress MP Rahul Gandhi to 2 years in jail in a defamation case for Modi surname remark. He is been disqualified as member of Lok Sabha following the case.
However the court granted Rahul Gandhi bail and suspended the sentence for 30 days. This was made to allow him to appeal in the higher court.
Mallikarjun Kharge, Congress President extended his support to Rahul Gandhi and called all MP's from opposition parties to oppose court's verdict. What exactly happened? Let's get to know in detail.
Rahul Gandhi defamation case:
As per the reports from news reports, Congress MP Rahul Gandhi allegedly said "All thieves have Modi as the surname". This incident happened at a rally in Karnataka in 2019 ahead of Lok Sabha elections. Now the comments from Rahul Gandhi raised controversy all over the internet.
Purnesh Modi, BJP MLA and Ex- Gujarat minister registered a case against Rahul Gandhi for his comments. He filed criminal defamation case in Surat court under IPC sections 499, 500 and 504 in 2019.
Rahul Gandhi appeared before the court and pleaded not guilty to the charges. In 2022, after series of hearings,  the court asked Rahul Gandhi to explain on content in electronic device.
The Surat court fixed its final verdict regarding the case on March 23 this year. On the same day, the court suspends Congress MP and sentenced him to two years in jail. Later on Friday, he was disqualified as Lok Sabha MP after conviction.
Following the court's verdict, Rahul took twitter as a medium and shared a tweet of Mahatma Gandhi. In the tweet, "My religion is based on truth and non-violence. Truth is my God, non-violence the means to get it. — Mahatma Gandhi", Rahul tweeted.
Rahul Gandhi disqualified as Lok Sabha MP
I'm stunned by this action and by its rapidity, within 24 hours of the court verdict and while an appeal was known to be in process. This is politics with the gloves off and it bodes ill for our democracy. pic.twitter.com/IhUVHN3b1F

— Shashi Tharoor (@ShashiTharoor) March 24, 2023
Kamal Hasan extends support to Rahul Gandhi
Indian film actor Kamal Hasan extended his support to the Congress MP Rahul Gandhi.
Rahulji, I stand by you during these times! You have seen more testing times and unfair moments. Our Judicial system is robust enough to correct aberrations in dispensation of Justice. We are sure, you will get your justice on your appeal of the Surat Court's decision! Satyameva…

— Kamal Haasan (@ikamalhaasan) March 23, 2023
ALSO READ: Rahul Gandhi targeted by BJP, call him anti-national and demands apology