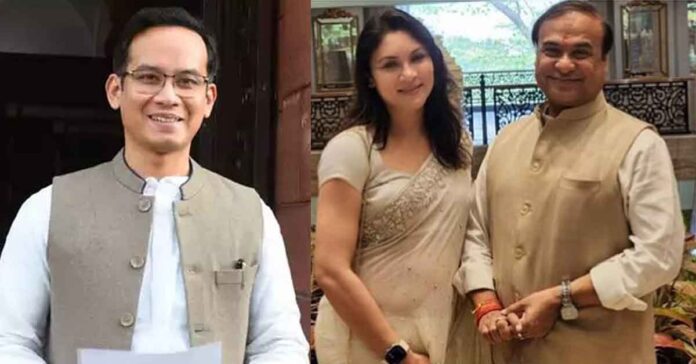 Congress MP Gaurav Gogoi has alleged that Assam CM Himanta's wife got Rs.10 crore as part of a credit-linked subsidy from the Centre.
BJP-ruled Assam was taken by storm after Gaurav Gogoi made serious allegations against Assam CM's wife. Gogoi claimed that Riniki Bhuyan Sharma, wife of Assam CM received 10 crore of subsidy from the Centre for her media company called Pride East Entertainments Private Limited.
The Congress leader shared a screenshot of the evidence about the claims he made on social media.
However, the Chief Minister refuted all the allegations. He rebuked the young congress leader. At times he tried to divert the attention by passing personal remarks.
According to various sources, Gaurav Gogoi alleged that the Chief Minister's wife is involved in ₹10 crore corruption in the Kisan Sampada scheme. Immediately, Himanta Biswa Sarma, the CM of Assam denied any such allegations of crediting money to his wife's company.
To prove the above allegations, Gaurav Gogoi brought the required evidence from the Ministry of Commerce & Industry.
Then Himanta said, that BJP leaders are allowed to take money from schemes and there is nothing wrong with that. Consequently, Gaurav Gogoi challenged Himanta Biswa Sarma to come to the Assam assembly respond to questions, and reply to the allegations with facts or evidence.
The Chief Minister of Assam arrogantly said, he would come to the assembly only when he wished to and not because someone asked him to come. However, Himanta denied the above-mentioned remarks. Instead, he tried to divert the topic to Gogoi's father. He claimed that Gaurav Gogoi didn't take his father to Delhi hospital when he was sick. Gaurav Gogoi brought out the facts and proved him wrong and in turn, the Assam CM went silent.
Few reports share this chronology of the incidents, hence we need to wait and watch if the allegations come true.
Assam CM Himanta's wife receives10 crore subsidy
BIG BREAKING:

Congress MP Gaurav Gogoi has taken Himanta Biswa Sharma to the cleaners.

He asked an enquiry to the Union Ministry of Commerce & Industry about the ₹10 crore credit by firm of HBS wife.

Piyush Goyal has given a reply to the letter & accepted that there is ₹10… pic.twitter.com/xYsAeZbHfq

— Amock (@Politics_2022_) September 14, 2023
ALSO READ: Assam BJP woman leader killed, body dumped on Highway