Keshav Murthy, state convener of Hindu Jagaran Vedike, a right wing organization is booked for hate speech. The video went viral on social media when he and few others made derogatory statements against the Quran and Muslims.
Subsequently, a complaint was lodged by Zameer Ahamad, president of the organization Anjuman-e-Islamia.
Keshave Murthy made derogatory statements, while addressing a gathering on July 1. Few Hindu activists gathered to protest the killing of the tailor Kanhaiya Lal in Udaipur.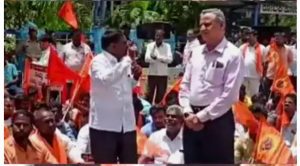 Addressing the gathering, he said "The Quran says kill people. So, don't you think those who read the Quran will follow the same? Those who read the Quran are terrorists."
According to NDTV, a case against state convener of Hindu Jagaran Vedike, Keshav Murthy is registered under Indian Penal code sections 153A, 153 Band 295A.
ALSO READ: Is Hindutva synonymous to Anti-Nationalism?