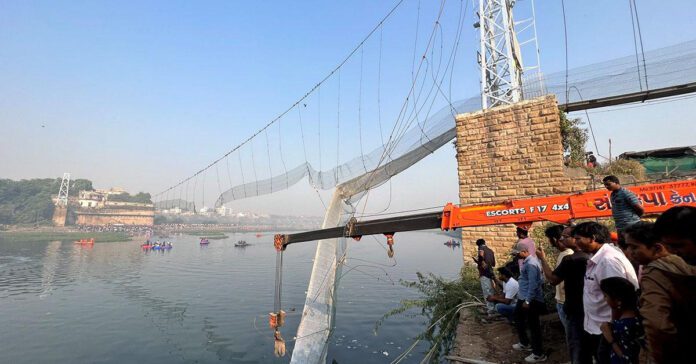 After the tragic incident Morbi bridge collapse in Gujarat, the state government has appointed a Special Investigation team (SIT) to make a report on why this incident took place. The incident took place on October 30 last year. A total of around 135 died in this incident.
According to the news reports, the Special Investigation Team has submitted a report on the cause of this incident. The state Urban Development Department shared the report with the Morbi Municipality.
SIT report reveals several lapses were found during their renovation and check-up.  Of 49 cables, 22 were already broken prior to the incident. This means almost half of the cables attached to the Morbi bridge were damaged. The remaining 27 cables were broken at the time of the morbi bridge collapse incident. This shows the inefficiency of the government and the management.
Furthermore, SIT found that at the time of renovation, the old suspenders were welded with new suspenders in place of single suspenders to be used. These single-rod suspenders will be efficiently used to bear the load.
Morbi Bridge Collapse SIT report
SIT which was constituted to probe Morbi Bridge Collapse, highlighted administrative & technical lapses on behalf of multiple stakeholders, which led to no corrective action being taken to improve the condition of Morbi Bridge, ultimately resulting in the deaths of innocent people, Mirror Now tweeted.
#SIT, which was constituted to probe #MorbiBridgeCollapse, highlighted administrative & technical lapses on behalf of multiple stakeholders which led to no corrective action being taken to improve the condition of #MorbiBridge ultimately resulting in deaths of innocent people. pic.twitter.com/MU7jBL81AK

— Mirror Now (@MirrorNow) February 20, 2023
ALSO READ: Gujarat Morbi bridge tragedy, CCTV footage released