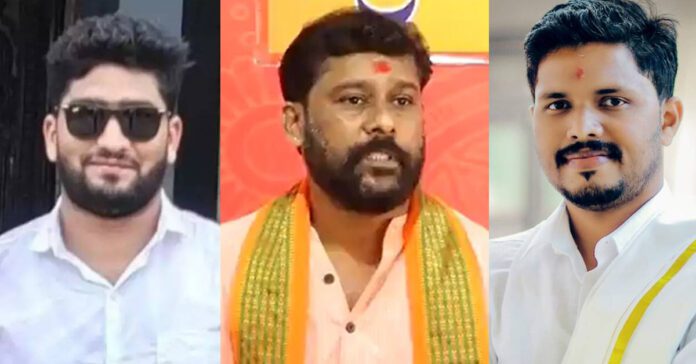 Karnataka VHP leader Sharan Pumpwell openly claimed that their Hindutva activists murdered Mohammed Fazil to avenge Praveen Nettaru's death in Sullia on Sunday.
Sharan addressed a large gathering in the Shourya Yatra of the VHP at Ullal. He claimed "Hindus showed their power in Gujarat and it is not a massacre. Bajrang Dal is ready to fight if needed. When Praveen Nettaru was murdered, the entire Hindu community wept. We wept for the sacrifice of a good karyakartha. But our karyakartas did not keep quiet. We killed Fazil in public view in Surathkal. You must have seen the video, of how brutally he was murdered. That is our power."
Further, he said that there is a need for a Hindu MLA at Ullal. "There may be many terrorists in Ullal. If NIA conducts searches, they need to be traced. Though PFI is banned, their workers are plotting to murder our activists."
Mohammed Fazil
On July 28 last year, Mohammed Fazil, a 23 year-old man was brutally killed in front of a garment shop in the Mangaluru district of Karnataka. Very soon, the police investigated and accused people of Fazil's murder.
According to a police investigation, the seven accused just "wanted to kill someone". The men hired the white car for Rs 5,000 per day for three days.
Praveen Nettaru
Contrary to this, the VHP leader Pumpwell said that Fazil's murder was to avenge the death of Praveen Nettaru, the 32-year-old Bharatiya Janata Yuva Morcha (BJYM) leader. Nettaru was attacked on July 27, 2022, with lethal weapons by unidentified persons who came on a bike.
The National Investigation Agency (NIA) was put in charge of Nettaru's murder investigation. On January 21 this year, NIA filed a chargesheet against 20 members of the now-banned Popular Front of India (PFI).
Godhra Tragedy
In addition to this, he claimed that nobody can mess with the Hindus, while remembering the Godhra train tragedy in Gujarat, 2002.
Remember the Gujarat incident, when 59 karsevaks were returning from Ayodhya and their compartments were burnt? Also, remember the answer given by the people of Gujarat. None of the Hindus sat at home with their hands tied. They all got down to the streets. They entered each house. Fifty-nine karsevaks were killed but the count of the number of people who were killed as revenge is still not available. It is estimated that around 2,000 people were killed. This is the bravery of Hindus," he said.
Killing somebody is not bravery: Fazil's father
On the other hand, Mohammed Fazil's father Farooq reacted to the VHP leader's latest claims of murdering his son, submitted a representation to the Mangaluru commissioner of police against Pumpwell.
Later, speaking to reporters, Fazil's father said that Pumpwell is a coward. "Sending so many people to kill my son is not an act of bravery. Sharan Pumpwell has his own personal motives and thus uses religion to fulfil them. It is just for the vote bank."
Karnataka will face the Assembly election in May this year. The current BJP state government run by chief minister Basavaraj Bommai is confident of regaining power.
Accusing politicians, Farooq said that none of them visited the family after the death of mohammed Fazil.
"To date, no MLA, MP or senior politician from the ruling party has visited our family. Now that the truth is out, I will fight till the end to get justice for my son," Farooq told reporters.
ALSO READ: "Telangana gets zero in Union Budget." – BRS