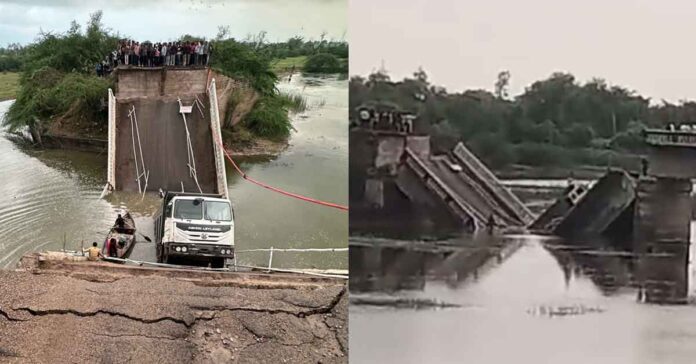 On Sunday evening, an old bridge on the Bhogavo River collapsed in Surendranagar district, Gujarat. Four people were rescued and 6 people are missing.
The collapsed bridge connects the National Highway to Chuda in Surendra Nagar district, Gujarat. According to the officials, the incident happened when a dumper truck tried to cross the bridge. Immediately, the heavy vehicles were restricted from crossing the bridge. When the bridge collapsed, a truck and a bike were on the bridge, which resulted in killing 10 people. However, six people drowned, and six of them were rescued. Six people are still missing.
The injured were shifted to a nearby hospital. Later on, the traffic had to be diverted from the other side of the dam in the Bhogavo river. The Roads and Housing Department is going to undertake restoration works, the official said.
A portion of a bridge on the Bhogavo river collapsed in the #Surendranagar district of Gujarat, causing a dumper and a bike to plunge into the river, while crossing the bridge and at least four persons were injured.#GujaratBridgeCollapse #BridgeCollapse #BhogavoRiver#Gujarat pic.twitter.com/tQ2LwV2RVq

— Surya Reddy (@jsuryareddy) September 24, 2023
ALSO READ: Gujarat Morbi bridge tragedy, CCTV footage released