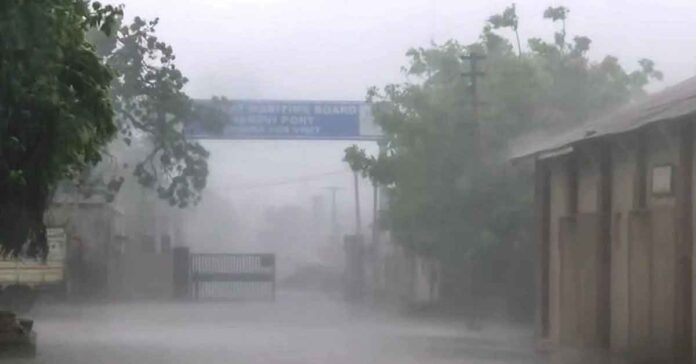 Gujarat: At least 22 people were injured, while electric poles and trees were uprooted as severe Cyclonic storm Biparjoy landed in Gujarat's coastal areas on Thursday, the 15th evening.
Water logging was seen in several areas of Bhuj after cyclone Biparjoy made landfall along the Gujarat coast yesterday. Gujarat's coastal areas experienced heavy rains and strong winds, resulting in the loss of three lives in the Kutch and Rajkot districts.
Cyclone Biparjoy, which crossed the Saurashtra and Kachchh coasts between 10:30 pm and 11:30 pm last night, weakened into a cyclonic storm at 10:30 am today," says IMD Director General Mrutyunjay Mohapatra.
According to India Meteorological Department, the cyclone has now moved from sea to land and is centred towards Sauarashtra-Kutch. Adding that heavy rains are expected in Rajasthan on Friday. 
#WATCH | NDRF team rescues two stranded people from the low-lying areas of Rupen Bandar in Dwarka district after cyclone 'Biparjoy' made landfall along the Gujarat coast yesterday.

(Video Source: NDRF) pic.twitter.com/OdfDqpjTlN

— ANI (@ANI) June 16, 2023
Cyclone Biparjoy has moved east-northeastwards and is centered 30km from Bhuj in Gujarat. By evening, it will convert into a deep depression over Saurashtra and Kutch and adjoining areas with 50-60kmph gusting to 70kmph: Dr Mrityunjay Mohapatra, DG, IMD pic.twitter.com/UBRAF8v5XJ

— ANI (@ANI) June 16, 2023
ALSO READ: Cyclone Biparjoy intensifies into severe Cyclonic storm