A 28-year-old female Range Forest Officer, Deepali Chavan popularly known as 'Lady Singham' committed suicide in her official quarters. She was posted in the Melghat Tiger Reserve (MRT) in Amravati. She committed suicide after alleging sexual harassment and torture at the hands of an Indian Forest Service (IFS) officer. A purported suicide note reveals all the agony she underwent.
No nonsense officer
'Lady Singham', RFO, Mrs. Deepali Chavan-Mohite, 28, was a tough, no-nonsense officer. Unlike other woman officers, she was famous for her dare-devilry against the forest mafias. She joined the Maharashtra government service in 2013.
Honest Officer
She handled the cases single handedly and fought against illegal encroachments in the forests. She curbed all the activities of the mafia for their vested interests or pecuniary gains. Subsequently, her honesty fetched her the ire of local politicians or mafia.
Bold and Brave Officer
Not only was she honest but also had an upright image. In addition to this, she was very brave and courageous. One of her friends said that five years ago, Deepali chased a gang of forest smugglers alone in her official vehicle.
Furthermore, She displayed huge courage when she came to know that the gang of forest smugglers were escaping by a train to Madhya Pradesh.
Fearless Officer
Undoubtedly, she intercepted the gang and seized all the smuggled goods and brought them back to Maharashtra. She arrested the smugglers with over five tons of a valuable jungle produce 'lac', and arrested them.
Disappeared in the forest
In addition to this qualities of her, Deepali ran after the dreaded local mafias or poachers-big or small, on the slightest clue. Daringly, she would often run after them alone and and would almost disappear in the thick forests.
Shot herself
Shocking to hear that 'lady Singham' shot herself at her official quarters in the Harisal village near the tiger reserve. She shot herself with her service revolver and succumbed on the spot, on Thursday. Her relatives and colleagues recovered a gun and a letter near her blood-splattered body.
Deepali's Family
Deepali married Rajesh Mohite in 2020,  who works as a Treasury Officer in Chikhaldhara. Her mother Shakuntala Chavan was in her native Satara. She had raised Deepali single-handedly.
Last rites
Consequently, Deepali's family refused to take over her body for the last rites. They demanded that her last rites would not be performed until the Amravati Police nab the accused named in her suicide note. The suicide of Deepali sent shockwaves in the forestry circles across the state.
Her suicide note
Despite her bravery and courage, she had to undergo sexual and mental harassment from her senior. In her suicide note, she mentioned how Shiv Kumar, abused his position. He harassed her sexually and inflicted mental trauma on her continuously since the past few months.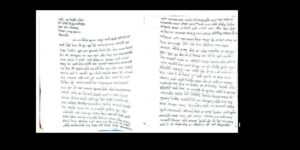 Complaints Unheard
Deepali complained about Shiv Kumar on several occasions in the past. But all her complaints fell on deaf ears. Instead, MTR Field Director, M.S. Reddy (IFS), ignored her pleas and outwardly sided the accused DCF.
Alcoholic Officer
Deepali highlighted Shiv Kumar's alcoholism in her letter. She wrote that he used abusive or foul language at her in public and private. Besides, he made several advances at her and dropped hints to get physical.
Continuously Harassed
Since, she repeatedly rebuffed him, she earned Shiv Kumar's ire. He troubled her by giving her difficult assignments, punishing work schedules, abuses, and once even holding back her salary for a month.
Worst of all situations
Deepali was pregnant in early-February. she informed about her health condition to her senior. Despite that, she had to accompany him on a grueling 3-day forest patrol. She had to walk or drive hundreds of kms ignoring her maternal condition.
Suffered a Miscarriage
Consequently, after her punishing forest ordeal, she suffered a miscarriage. Due to which she was in deep depression. Her mother took utmost care of her during that time and hence recovered with the loving care of her mother Shakuntala Chavan.
Action Taken
The Amravati Police acted swiftly and went after the Deputy Conservator of Forests (DCF) Vinod Shiv Kumar. Since, Deepali chavan named him in the her 4-page suicide note. The police went in search of him. Deepali made an earnest plea that strict action should be taken against him so that nobody else should suffer her ordeal.
CM Uddhav Thackeray
Taking serious cognizance, the Forest Department, handled by Chief Minister Uddhav Thackeray, suspended Shiv Kumar late on Friday. He also ordered Reddy to hand over charge to another officer, pending his transfer, as per an official notification.
Attempt to escape
However, Shiv Kumar, (IFS), tried to escape to Bengaluru. The Amravati Police detained him at the Nagpur railway station. They later arrested him.
ALSO READ: Rise in domestic violence, police indifference: NCW | During lockdown