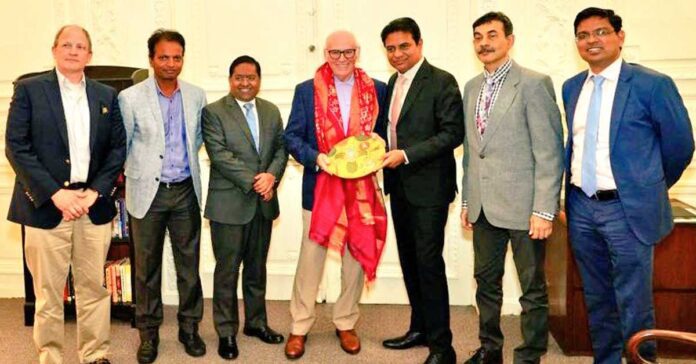 Telangana gets two more investments from US from business tour by KTR. This investment followed Rama Rao's acquisition of Warner Bros. Discovery when he was in New York as part of an ongoing business visit of the country. Medtronic and Ocugen Inc. each contributed two further investments.
KTR meeting with Medtronic PLC, a global leader in healthcare technology with headquarters in Dublin, was made public on Thursday. This announcement included an investment of more than $350 million (about Rs.3000 crore) to develop the Medtronic Engineering & Innovation Centre (MEIC) in Hyderabad.
Ocugen Inc., a large biotechnology company with headquarters in the United States, recently unveiled plans for a research and development facility in Telangana. This facility will concentrate on creating advanced regeneration cell treatment and modifying gene therapies in addition to vaccinations to promote public health.
When meeting the Minister, Avi Basu, the founder of the insurtech start-up Wingsure, addressed prospective business prospects in the areas of agricultural and agri-related financial services.
Additionally, the Minister was met with the senior leadership team of Aaron Capital, a renowned investment banking firm, which is chaired by David Wolfe.
Later, a Bristol Myers Squibb leadership team met with the minister and updated him on the status of their Hyderabad Science, Technology, and Innovation Centre.
Executive leadership team of Aaron Capital, a leading investment banking company, led by its Chairman, David Wolfe met with IT & Industries Minister @KTRBRS in New York.

The meeting presented an opportunity for potential collaboration between Aaron Capital and the Government of… pic.twitter.com/mdnRfbnNrl

— Minister for IT, Industries, MA & UD, Telangana (@MinisterKTR) May 18, 2023
ALSO READ: 19 Opposition parties to Boycott new Parliament Inauguration