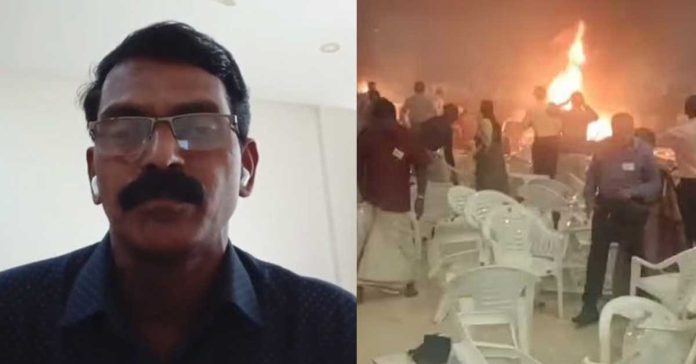 A man called Dominic Martin claimed responsibility for the Kerala blast at Kalamassery Prayer Meet and surrendered before the police.
According to the Police, Dominic Martin from the same sabha has claimed responsibility for the blast. However, it is too early to comment on an ongoing investigation but the disinformation on social media, and the insinuations on news channels are vile and dangerous.
Kalamassery, Kerala ADGP MR Ajith Kumar, says "One person has surrendered in Kodakra Police Station, in Thrissur Rural, claiming that he has done it. His name is Dominic Martin. He claims that he belongs to the same group of sabha. We are verifying it. We are looking into all aspects of this case…The blast took place in the central part of the hall…" 
Here is the Facebook live of a person who claims to be Dominic Martin.
In the video, he says he was associated with Jevoha Witnesses for the last 16 years and he was not happy with the preaching done by them, they taught things that are against our nation and he tried warning them many times in the last, he had to do this blast! This is the confession on his FB page and later he surrendered at the police station.
Dominic Martin on his Facebook Live
Kerala ADGP MR Ajith Kumar, says "One person has surrendered in Kodakra Police Station, in Thrissur Rural, claiming that he has done it. His name is Dominic Martin and he claims that he belonged to the same group of sabha. We are verifying it. We are looking into all aspects of… pic.twitter.com/Cm0mcfDLFV

— Mohammed Zubair (@zoo_bear) October 29, 2023
ALSO READ: Kerala bomb blast: 1 killed and 35 injured in a multiple blasts