A grieving son was desperate to see his fathers grave, for which Google helped him find. Apparently, his father died when he was still in his mother's womb.
In his desperation, this grieving son researched in Google and went in search of his father's grave from Tamil Nadu to Malaysia. However he was successful in his attempt. He found solace after finding his father's grave.

Ramasundaram migrated to Malaysia along with his wife Radhabai, many years ago. He took up a job as a teacher. Unfortunately, he died in 1967. His wife who was pregnant at that time, completed the funeral rites in Malaysia but returned to India mas the memories of her husband were haunting her.
6 months after her return to India, she delivered Thirumaran. However, Radhabai died after 35 years. Thirumaran is 56 years now. He lives in Tamil Nadu and is into social service now. He had a strong desire to at least visit his father's grave.
Based on the information given by his mother, Thirumaran, tried to search the school his father worked in and the place his father resided etc. After finding the address of the school in which his father worked, he sent an email to the school and conveyed his strong desire. The Principal of the school was moved when he read the e-mail and responded immediately.
Fortunately, his father's friends, Mohan Rao and Nagappan were also identified, who were also present during his father's funeral.  On November 8, Thirumaran, went to Malaysia and wept near his father's grave.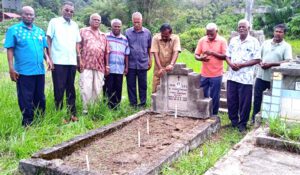 In these days when people don't take care of their old parents who are alive, it's rare to find people like Thirumaran, who struggled hard to find his father's grave.
ALSO READ: Seema Patra claims innocent, exposed by son and his friend