Recently, the ruling TRS party of Telangana has been accusing the Centre, that Telangana didn't receive any disaster relief funds in last four years. We at Avaaz24, tried to explain what Disaster Management Act is and how the fund is created and disbursed.
Who manages Disaster? Is it the Centre or the State?
Disaster management doesn't find mention in any of the list (I, II or III) under Schedule VII of the Indian Constitution.
Thus Disaster Management Act, 2005 was enacted by Parliament in exercise of its residuary powers of legislation under Article 248 read with Entry 97 of List I (Schedule VII)
What is Disaster Management Act, 2005?
Enacted in 2005, this act provides for effective management of disasters and for matters connected therewith.
Provisions of Disaster Management Act, 2005:
National Disaster Management Authority
This act established a National Disaster Management Authority (NDMA). It is responsible for framing policies, laying down guidelines and best practices for coordinating with State Disaster Management Authorities to ensure a holistic and distributed approach to disaster management.
Prime Minister of India is its chairperson. Other members, not exceeding nine will be nominated by the chairperson.
NMDA can constitute an advisory committee with experts at the national, state or district level to make recommendations on different aspects of disaster management.
National Executive Committee
Central government constituted a National Executive Committee (NEC) to assist NMDA in the performance of its functions.
It is headed by Secretary of the Disaster Management Division of Ministry of Home Affairs which has administrative control of disaster management.
Other members are secretaries in the departments of agriculture, atomic energy, defense, drinking water supply, environment, forests, finance, health, power, rural development, Science & Technology, Space, Telecommunication and Urban Development.
Interestingly, Chief of the Integrated Defence staff is also a member of NEC.
State Disaster Management Authority
Not only at Centre, but also each state has established a State Disaster Management Authority (SDMA).
Chief Minister of the state is its chairperson. Other members not more than eight will be nominated by the CM.
District Disaster Management Authority
Every state government established District Disaster Management Authorities for every district in the state as per this act.
District Collector is the chairperson and elected representative to the local authority is its co-chair person.
Other members of DDMA are- Chief Executive Officer of the district, Superintendent of Police (SP), Chief Medical officer of the District Hospital.
National Institute of Disaster Management
This center was initially National Centre of Disaster Management (NCDM) of New Delhi.  It was constituted under act of Parliament in 1995. It is re designated to its present name under this DMA, Act 2005.
National Disaster Response Force (NDRF)
For the purpose of specialist response to threatening disaster, NDRF is organized on paramilitary lines under Ministry of Home Affairs.  NDRF is manned by persons on deputation from Central Reserve Police Forces (CAPF's) of India.
National Disaster Response Fund
It was earlier called as National Calamity Contingency Fund (NCCF). It was operated as per guidelines laid down by 11th Finance Commission. In 2005, it was renamed as National Disaster Relief Fund.
It supplements the State Disaster Relief Fund in case sufficient funds are not available with the state funds to facilitate immediate relief in case of calamities.
This National Fund is financed by National Calamity Contingency Duty levied on certain items. Additional budgetary support is given by the Centre as and when necessary.
The fund also accepts grants made by any person or institution for the purpose of disaster management.
Additionally, every ministry/ Dept. of Government of India should make provisions in its annual budget for funds for the purposes of carrying out activities and programmers set out in its disaster management plan.
Comptroller and Auditor General of India audits the National Disaster Response Fund.
National Disaster Mitigation Fund
The act also provides another fund called National Disaster Mitigation Fund, exclusively for the purpose of mitigation.  It is not created till date.
State Disaster Response Fund
Immediate relief to the victims is provided from State Disaster Response Fund. Centre contributes 75% of State Disaster Response Fund allocation for General Category States and UTs and 90% to Special Category States.
As per recommendation of the Finance Commission, the annual contribution to the states will be released in two equal installments.  It is subject to the approval of High Level Committee, Ministry of Finance.
State Executive Committee constituted by Governor under DMA 2005 shall be responsible for ensuring that the expenditure incurred out of the funds received under the National Disaster Response Fund.
Allotment of Disaster Funds to Telangana- the recent issue:
Recently, Minister of State for Home Affairs Nityanand Rai presented an answer to an Unstarred Question in Lok Sabha regarding central allocation of National Disaster Response Funds to states.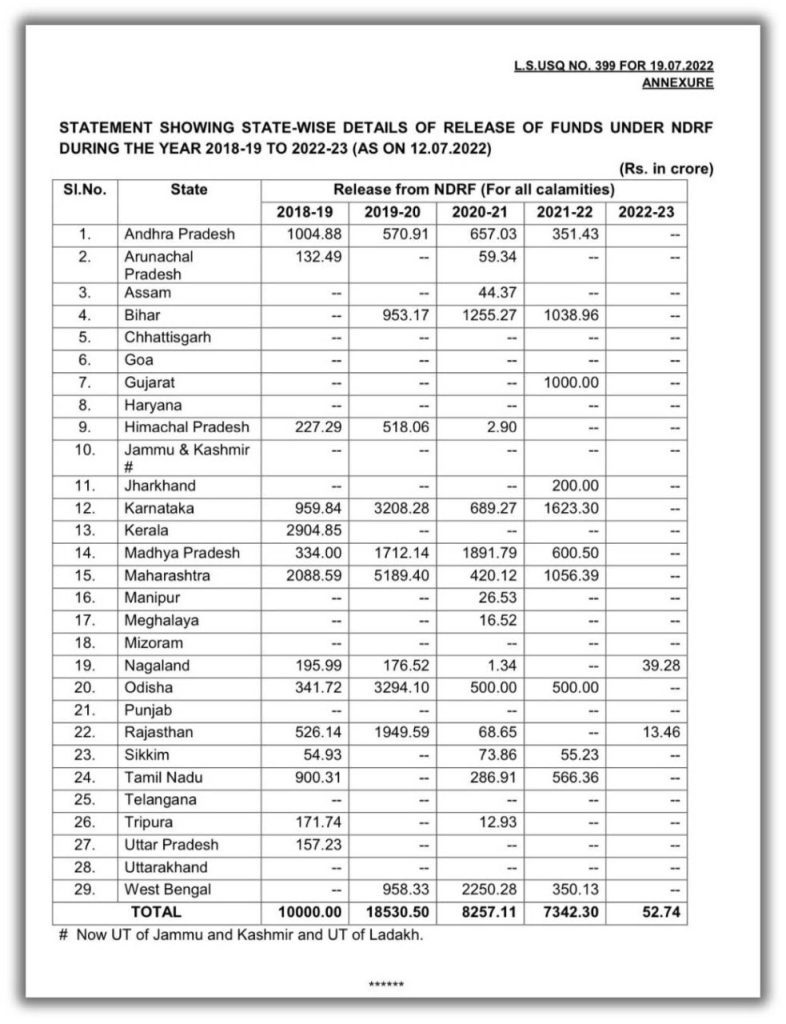 As per the details produced by him, Telangana and seven other states i.e. Chhattisgarh, Goa, Haryana, Punjab, Mizoram, J&K and Uttarakhand have not received any NDRF grants since 2018.
How much allocations of NDRF did Telangana sought for?
According to MHA reports since FY 2018-19 to FY 2021-22, Telangana has sought central assistance under NDRF only once. In FY 2020-21, TS asked for Rs. 698.87 Crore.
As per procedural guidelines, if there are already funds lying under SDRF, the centre will deduct 50% of unused SDRF fund (at the beginning of financial year) from the approved amount.
As per that calculation, the High Level Committee, Ministry of Finance approved Rs. 245.96 Crore to Telangana.
But, if the SDRF already has more than double the amount for which it is eligible (after the above calculation) it will not get any funds at all. This is what happened in case of Telangana.
As on April 1, 2020 Telangana's SDRF already had Rs.977.67 Crore. It is four times of the approved amount (Rs.245.96 Crore). As a result, it did not get any funds from the Centre.
ALSO READ: Centre released UAPA cases: NDA govt used UAPA increasingly, NCRB report