Baba Ka Dhaba Controversy: An elderly couple in their 80's owned a dhaba in Malviya Nagar. This old joint named Baba ka Dhaba was a food joint. Kanta Prasad, the owner and his elderly wife managed this food joint near Hanuman Temple in Delhi's Malviya Nagar, 1988.
During the first wave of Corona virus, people stopped eating street food. Seeing their plight, a Youtuber Gaurav Wasan shot a heart breaking video on them. This video went viral on social media.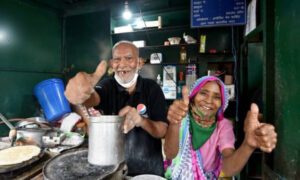 Consequently, the owner of the dhaba, Kanta Prasad shot to fame. Many internet users, politicians and even Bollywood stars urged people to help the couple start their dhaba again.
Suddenly, the couple saw thing falling into place. Fortunately, unlocking also started slowly by then. Many people came out in his support and the dhaba became all the more famous. The owners started 10,000 per day, after the video went viral.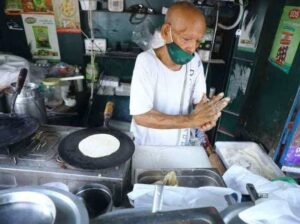 Kanta Prasad himself said, " After the lockdown, our situation had become worse. We used to set-up our shop at 6-7 am and make food by 9.30 am.
But no customers came. But after the video went viral, I opened the shop at 6.am and by 9.am, the food was sold. People are giving us so much love. Our lives have changed overnight".
Meanwhile, he was earning lesser that the initial days. He was earning Rs10,000 per day earlier, but now it was only 3000-5000. Kanta Prasad suspected Gaurav Wasan for this and complained to the police.
The dhaba owner alleged that Gaurav was misappropriating funds raised to help his wife and him. He also alleged cheating mischief, criminal breach of trust, criminal conspiracy by Wasan.
However, Wasan denied all the allegations.
From the donations he received , he started a restaurant investing lakhs of rupees but he did not get the expected results. He shut down the restaurant and returned to his own dhabha.
After that, when he realized that he made a mistake that he committed a mistake by complaining on Wasan, returned to him and apologized to him.
When KARMA hits you very Hard…

Karma Returns.. #BabaKaDhaba pic.twitter.com/hv3PACpiCO

— Sanskaari Ladka ™🌹 (@RockstarAmit) June 12, 2021
But as Karma turns back, he is now back in his dhaba in the same way he lived for years. It is heard that this old man has attempted suicide. He is shifted to Safdarjung hospital and is out of danger now.
ALOS READ: Baba ka Dhaba owner files complaint against the influencer who made him famous