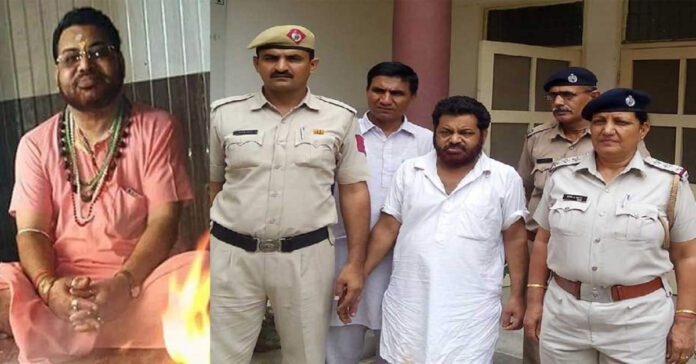 A 63-year-old mahant Amarpuri alias 'Billu', is fondly known as 'Baba Jalebi'. He is a mahant at Balaknath temple in Fatehabad's Tohana. A fast track court found him guilty of raping over 100 women disciples and making videos of the act. He is sentenced to 14 years of jail.
According to a report by the Times of India an Additional district judge Balwant Singh will pronounce the quantum of sentence on January 10.
Earlier, in 2018, 'Jalebi Baba', was arrested from his residence in Shakti Nagar area in Fatehabad after police received a tip-off. Police recovered video CDs containing the clips of the victims being sexually assaulted and said the accused used them to blackmail the victims. Police also found 120 sex video clippings from the mobile phone of the accused.
Many videos were already being circulated in the towns. With no way out, the Deputy Superintendent of Police Joginder Sharma had appealed to the public to not circulate the video as it was a criminal act.
Modus Operandi
The modus operandi of the mahant, who was a tantrik. He used  to offer help to women as he claimed to have possessed powers enabling him to "hypnotise" and help people.
Once the women were hypnotised, he used to offer drugs to the women in a liquid and sexually exploited the women.
In this way, he raped at least 120 female disciples. Moreover, he used to record the acts with each of the victims on his mobile phone. He would then use these videos to blackmail the victims into continuing their sexual relations or take money from them.
Who is 'Jalebi Baba'
Reportedly, Amarpuri is a widower who has 4 daughters and 2 sons. Initially, he used to sell jalebis in the town's main market for 13 years. One day, he got introduced to a baba who possessed occult practices. He followed him and learnt them. Very soon he shut his business of selling Jalebis and bought a house in Bhatia Nagar. He constructed a temple with a basement in his house.
However, the locals were aware of the notorious activities, hence none of them approached him. Later, he received clients from outside the town.
He was arrested a few years ago after he was exposed online about violations in his den.
Earlier in 2017, a married woman accused him of raping her in his residence. He was booked for rape but later received bail in the case.
ALSO READ: Ramdev Baba controversial statement: "Women look good even if they don't wear anything"