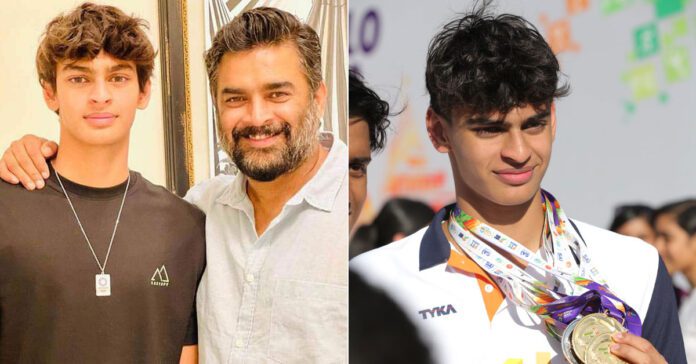 Vedaant Madhavan, son of famous Bollywood actor Ranganathan Madhavan shines brighter in the swimming competition at Khelo India Youth Games 2023. He grabs a total of 5 gold and 2 silver medals in this competition.
Bollywood actor R. Madhavan expressed his happiness and shared pictures of his son Vedaant photos in his official Twitter account. The pictures are going viral all over social media. Netizens started applauding the efforts and victory of the kid and wished him a brighter future.
Vedaant won Gold in 100m, 200m and 1500m and silver medal in 400m and 800m race.
Vedaant Madhavan was pretty much interested in participating in swimming competitions at the school level. Later he developed his passion towards the sport. In 2022, he won the gold medal in the Danish Open by beating the Danish swimmer Alexander L Bjron.
Actor Madhavan son at the swimming competition
With gods grace-Gold in 100m, 200m and 1500m and silver in 400m and 800m, Ranganathan Madhavan tweeted.
With gods grace -Gold in 100m, 200m and 1500m and silver in 400m and 800m . 🙏🙏🙏👍👍 pic.twitter.com/DRAFqgZo9O

— Ranganathan Madhavan (@ActorMadhavan) February 12, 2023
ALSO READ: Hyderabad EPrix: Formula E racing starts at 3PM today, Traffic advisory issued