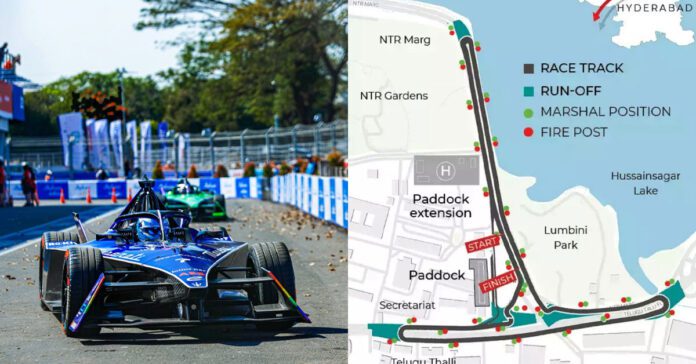 The most anticipated Formula E race finally arrives in Hyderabad. Hyderabad joins the elite list by hosting India's First ever Formula-E race – Hyderabad EPrix. The race was scheduled at the banks of Hussain Sagar Lake and NTR Marg.
On Saturday, the fourth round of the ninth season will take place, and city motor racing fans can expect an adrenaline rush. Hyderabad will be the 27th country to host the Formula E race in the world. The final race will start from 3:00 PM to 4:30 PM IST.
Hyderabad EPrix: Race Details
The length of the Formula E Hyderabad Street circuit is 2.83km around Hussain Sagar Lake and NTR Marg. More than 22000 spectators are expected to be present during the race. The race's Gen 3 EV cars are from Maserati, McLaren, Nissan, Mahindra, Jaguar and Porsche, with the highest speed of 320kmph. These are faster, lighter and most efficient cars compared to the earlier ones.
Free practice 2 is scheduled at 8:00 am IST followed by a Qualifying race at 10:40 IST. The final race, Round four of season 9, will commence from 3:00 PM to 4:30 PM on Saturday.
After Ten years
According to the media reports, motorsports returned to India for the first time after 10 years. Last time in 2013, India hosted Indian Grand Prix Formula 1 race in Noida.
Trail Race
On Friday, a trail was tested at noon. Meanwhile, a Porsche car rammed into the slide barriers in the test run. The driver was safe without any injuries, FIA stated.
Traffic advisory
With a high traffic flow in the lane in mind, the Hyderabad police have issued traffic diversions. Many people are unhappy with the E- race and traffic advisory as it is being conducted in the heart of the city, where heavy traffic always ply through this road. With these traffic diversions we can expect huge traffic over the city and waiting at traffic signals may increase.
Traffic advisory in view of #FormulaE Race #HyderabadCity pic.twitter.com/Xgf82fhid9

— Hyderabad City Police (@hydcitypolice) February 10, 2023
ALSO READ: Indian Racing League Hyderabad: Tickets for circuit racing out now