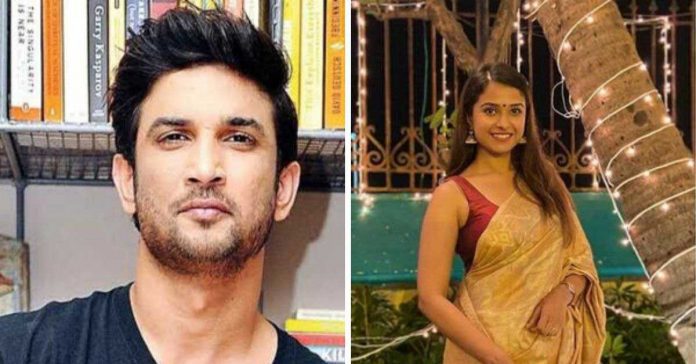 Twists and turns have become common in Sushant Singh Rajput's case every day. We get to know a new development everyday.
In a recent interview his ex-manager Disha Salian's parents mother Vasanti Salian and father Satish Salian, opened up regarding their daughter's death.
They were very unhappy about the way their daughter's image is being defamed and they had also cleared the link between both cases.They added, "She was our only child, we lost our only daughter, now they have tarnished her image badly and now after her death they are after us. They want to kill us by harassing us like this."
Disha Salian died on June 9, a week before Sushant Singh Rajput's alleged suicide. She was only 28 years old. Sushant Singh Rajput's sudden demise is taking a different route now. Social media is filled with different conspiracy stories.
Politicians claimed there is a strong relation between both cases. But according to Disha's mother, they never had any connections with anyone or with people whose names are being taken in this case nor did they meet them.  She also made it clear that she neither had their numbers nor any photos with them. However, the Cops had all contact details of people with whom Disha never spoke too. Mumbai police have denied these stories.
They didn't comment on these things suddenly they have decided to open up and share their views. Vasanti Salian said that it was a humble request to the people of India, not to believe all the conspiracy theories and different stories that are trending on all platforms of social media. They are fake and just rumors.
Disha's father also approached the Supreme Court to stop all this, as they are suffering badly because of these rumors. HE said that they don't have any courage left to listen to all these fake news against Disha.
Her mother also added that the theories framed by the politicians of rape and murder is false. Malvani police (where Disha Salian case is being investigated) has all documents on record; they have seen post mortem report.
According to her Mumbai police are doing their job properly. She also demands punishment for Actor Puneet Vashist, who was writing lot of wrong things against Disha. He has harassed the whole family.
According to her they have no idea that she was Sushant's manager, she never mentioned his name before. Disha only once met with Sushant in his house. She was his manager for a very short time. As Disha only met once with Sushant therefore it is not possible to have any relation between two cases.
Earlier she worked with Aishwarya Rai Bachchan for two years. She added that Disha was a bit tensed as she was removed from a deal with Ranbir Kapoor. Disha didn't celebrate her birthday this year as she was depressed and her parents had no idea about her depression.
Talking about her last chat with Disha, her mother said, "She said her friends were there and she was busy cooking for them. I can't doubt her friends, they were with her since school."
She and her fiance Rohan Roy decided to get married after lockdown. Whole lockdown Rohan was staying at Disha's place. On 4th June Rohan got one offer. Malad house location was finalized for indoor shoot.
Therefore Disha and Rohan Roy went there. For same he got cheque and agreement was finalized. Disha was really happy because she got a chance to go out and at the same time got work said her mother.
Father Satish Salian said, "As media has freedom of speech, we also have right of privacy, do not interfere in our life please. I request you all please. Police have explained me. They showed the evidences of the whole case evidences, post mortem report. My daughter was never pregnant, she never got pregnant. Rape never happened organs are clear."
Disha's mother also denied that they were being threatened by anyone. Her daughter will not come back again. As Bihar Police reopen the case they don't know how long will they dig into the matter. If this reopening brings their daughter back they will definitely support this matter, but nothing like that seems to happen.
ALSO READ: "Conspiracy against Maharashtra" Sanjay Raut; SSR case shifted to CBI