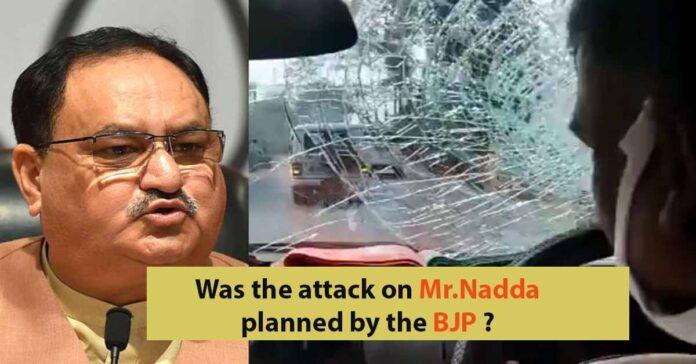 Mr. J.P. Nadda is the President of the ruling party, the Bhartiya Janta Party. It is not a small position that he holds. He holds a responsible position to make his party win and also pull down the other parties by hook or crook.
BJP president JP Nadda's convoy was attacked with bricks and stones near Kolkata this afternoon. It is alleged that the attack was done by the supporters of Bengal's ruling Trinamool Congress.
Two BJP leaders were injured and many cars were damaged in this attack. BJP has alleged and accused the Mamata Banerjee government of serious lapses in security.
Mr. Nadda was on a election campaign and had 50 cars convoy in it. It is surprising to see that BJP which is the ruling party is accusing the other regional parties of attacks on them. The Home ministry is in their hands.
Mr. Amit Shah had ordered a Z- plus category security to be given to Mr. Nadda. All the amenities are given to them, irrespective of the position they hold. Hence, safety measures should be taken by them.
It is alleged that the convoy was creating lots of problem to the public in Bengal. The convoy had 50 cars and then security personnel and reporters behind them. It is also said that one of the cars rammed into another private vehicle injuring people on the road, which made the people around angry.
It is alleged that CISF-BSF commandos were taking care of Mr. Nadda's convoy. Hence the common people can't reach the cars or attack them. It is also alleged that the BJP activists carry firearms, hence no one would dare attack them.
As the protocol goes, any leader should inform or request the state government to provide security.
Mr. Nadda, the BJP president not only ignored the protocol but also held a election campaign with a 50 car convoy without informing the state government.
Since Mr. Nadda did not follow the protocol, he can not blame the state government for any untoward incident.
This ignorance has given an opportunity to the Chief Minister Ms. Mamata Banerjee. She said "Every day they (BJP activists) are coming out (for rallies) with firearms.
They are slapping themselves and blaming it on the Trinamool Congress. Just think of the situation. They are roaming around with the BSF, CRPF, Army, CISF….then why are you so scared?"
ALSO READ: Protesters Reject Govt Proposal, Call For Strike on December 14: Farmers' Protest