Shraddha Walker's timely action could have saved her life. She was killed and her body was cut into 35 pieces by her live-in partner, Aftab Poonawala.
Wrong decision
Unfortunately, Shraddha decided to elope with Aftab and stay with him for the rest of her life. Even after she knew that he would kill her or cut her into pieces. He had threatened her many times, but she still continued to live in a violent relationship.
Father's request
According to different sources, it is learnt that her father had requested her to stay back with them after her mother's demise. But she was reluctant and stubbornly left her father and brother even in the times of despair. It is also known that she told her father, 'sometimes Aftab is violent but he apologizes later.'
Shraddha knew that Aftab would kill her but never tried to come out of the relationship, else she would be alive today. Moreover, this is very clear that Aftab was abusing her, as she clearly mentioned that he has plans to kill her.
Drug Addict
Shraddha's friend also claimed that Aftab is a drug addict and she badly wanted him to leave drugs. If that's the case then she would  have strongly decided to leave him and start her new life again by herself or could have gone near her parents for help. That would save her life.
However, shocking information emerged from a claimed letter sent by her on November 23, 2020, against her live-in partner Aftab Poonawala. The news of Shraddha walker's letter shook the internet and silenced many.
Police Complaint
Instead Shraddha filed a police complaint in the Vasai police station, Mumbai. She alleged  that Aaftab had attempted to murder her and had been beating her for six months. Furthermore she added, Aaftab's parents were aware of this physical assault on her.
"If anything happens to me, you should know who to go for," she said in her letter to the police.
Police Confirmation
According to India news, The Maharashtra police confirmed that the deceased filed a complaint against Aaftab at the Tulinj Police station on the specified date. They also confirmed the authenticity of the complaint letter submitted by Shraddha's neighbor as being written by deceased Shraddha herself.
Shraddha Walker complaint letter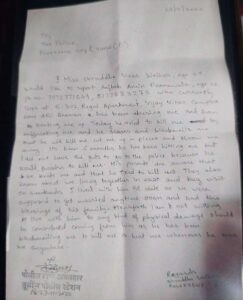 ALSO READ: Delhi: Man kills Live-In-Partner, Chops her body into 35 pieces