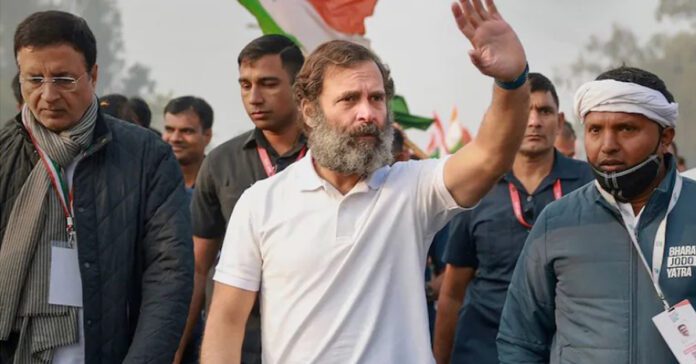 Congress leader Rahul Gandhi's Bharat Jodo Yatra resumes from Ailum village, Shamli district in Uttar Pradesh. The march started around 6.00 AM on Thursday after halting for the night at Ailum village.
Rahul Gandhi's padayatra reached the village from Delhi ahead of the resumption of the march, Congress Uttar Pradesh unit spokesperson Anshu Awasthi said.
Congress leader Rahul Gandhi in Baghpat said, I walk in yatra wearing T-shirts. Many children of poor farmers and laborer's walk with me in the yatra wearing torn clothes. But media doesn't ask why children of poor farmers and laborer's are walking without a sweater or jacket during the winter season.
According to source, The march is expected to enter into Panipat in Haryana by Thursday evening, ending its journey in the politically crucial state that sends 80 members to Lok Sabha. The Bharat Jodo Yatra, which started from Kanyakumari on September 7, will end with the hoisting of the national flag by Rahul Gandhi in Srinagar on January 30.
Congress Tweet
No wrinkles and no fatigue even after walking for miles… Neither the path seems difficult nor the destination far away.
This is not the story of any one, it is the story of every Indian traveler. Now those who have come out carrying the power of love, what should they worry about, what should they fear.
Tomorrow #BharatJodoYatra will leave from Alam village with the message of this love .
मीलों चलकर भी न कोई शिकन और न कोई थकान…न राह मुश्किल लग रही है और न मंज़िल दूर।

यह किसी एक की नहीं, हर भारत यात्री की कहानी है। अब भला जो प्यार की ताकत लिए निकले हों उन्हें किस बात की चिंता, किस बात का डर।

इसी प्यार का संदेश लिए कल #BharatJodoYatra एलम गांव से रवाना होगी। pic.twitter.com/x5NfoL0Ydx

— Congress (@INCIndia) January 4, 2023