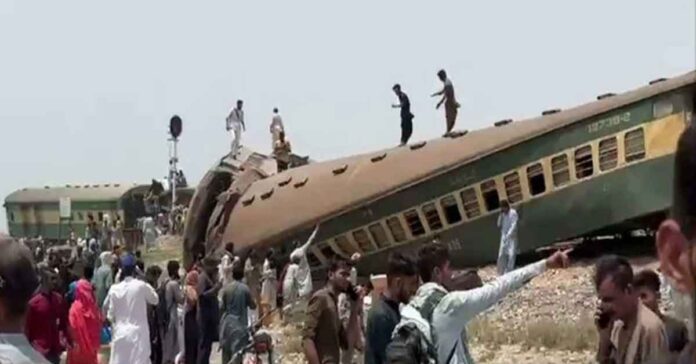 Train accident in Pakistan at least 15 people were killed and more than 50 injured on Sunday. After 10 coaches of the Rawalpindi-bound Hazara Express train in Pakistan were derailed near Sahara Railway Station, about 275 kilometres from Karachi, according to Geo News.
The incident occurred near Sahara railway station, near Nawabshah city in Sindh's southern region. However, the reason behind the derailment is yet to be known.
Meanwhile, the Pakistan railway minister declared an emergency at local hospitals as doctors struggled to treat the injured.
Heart wrenching incident, may Allah have mercy on us 💔.#TrainAccident pic.twitter.com/GMXA6s21XT

— Ibrahim 🇵🇰 (@Ibrahim___56) August 6, 2023
Pakistan🚨 At least 20 people were killed and over 150 injured when 10 bogies of the Rawalpindi-bound Hazara Express derailed near Sahara railway station between Shahzadpur and Nawabshah. #nawabshah #sindh #karachi #Pakistan pic.twitter.com/1u3y7ruGoM

— mubashir khawaja (@khmaarkhoor) August 6, 2023
ALSO READ: Pakistan Bomb Blast: 44 killed in suicide attack at political rally