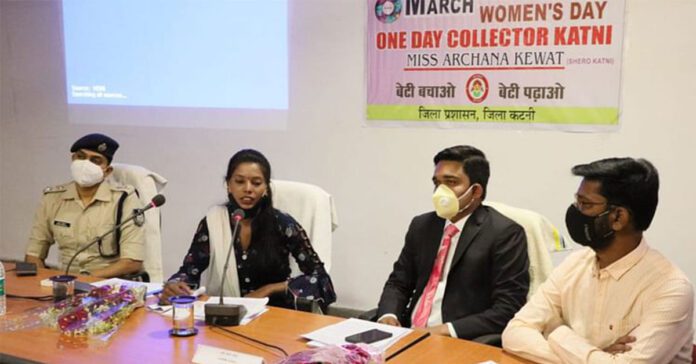 International Women's Day, 2021 turned unimaginable, unforgettable one to Archana Kevat. She never expected that her one deed of courage would bring her such great honor. On the occasion of International Women's Day, Archana Kevat was honoured to be appointed as 'One Day Collector' in Katni District of Madhya Pradesh. She was also given Rs 51,000 by the State Government. This rare honor was bestowed on Archana Kevat for rescuing two minor girls from abusive boys.
One Day Collector:
On Monday morning, March 8, 21-year-old Archana Kevat arrived in a car at the district collector's office. Archana Kevat wore a cotton salwar suit. She was introduced as the 'One day collector' in front of the media. She confidently received respect as a Pro. Archana, soon introduced herself as the daughter of a vegetable seller. She was welcomed by the District Collector Priyank Mishra and the staff greeted Archana with flowers before entering the Collectorate office.
International women's day, which was on Monday, a review meeting was held on the district administration and development. Archana, the 'One day collector' presided over the meeting. Directions were given that special care should be taken for malnourished children and shifting or admitting underweight and malnourished children to rehabilitation centers should be given first priority.
Then Archana attended a meeting of the gram sabha set up in Chaka village at 12 noon. She was then the chief guest at a district-level event organized by the Department of Women and Child Development. At one o'clock she reached the auditorium at the bus stand and held a meeting. She was informed about the One Stop Center at 3pm and the safety of girls at 4pm. Archana continued to carry out tours and meetings one after the other throughout the day.
Archana is the daughter of a vegetable vendor. She has eight (8) siblings. She helps her father in the vegetable business. One day Archana saw two teenage girls being harassed by bullies at the market a few days ago. She beat them up with the help of the people nearby and took them to the police station and handed them over to the police. The manner in which Archana brought the thugs to justice without any fear impressed not only the local public but also the authorities. In addition to giving her a cash prize for her courage, she was honoured by giving her the opportunity to be a One day collector.