The Royal family is in the worst crisis ever after Prince Harry with his wife Meghan Markle took on the British monarchy in a startling interview with Oprah Winfrey. This interview exposed "the firm" for its intolerant and unkind actions.
Harry and Meghan in a tell-all interview with Oprah Winfrey focused on three areas – Mental Health Racial and Gender Equity and the topic of Safe Online spaces. All the viewers who watched the Oprah show were convinced about how these three special areas were so important to the couple.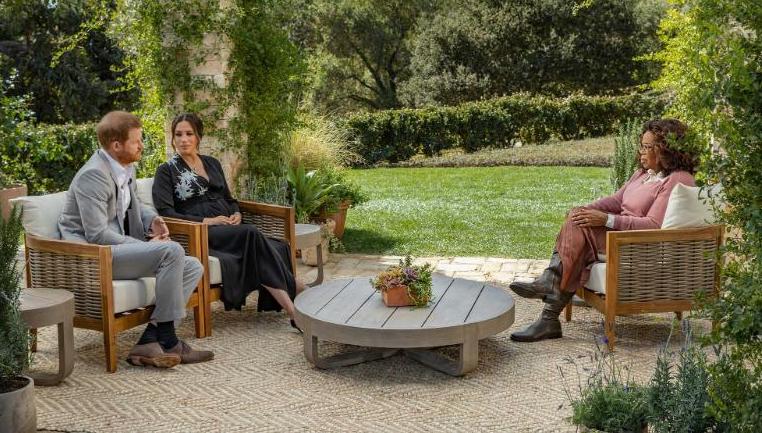 Meghan claimed that the royal family, aka "The Firm," was "perpetuating falsehoods" against her. The words of Meghan brought back the memories of the tension between Buckingham Palace and Princess Diana in the 1990s. The Duchess of Sussex decided to speak out against one of the best-known, most highly regarded and, well, efficient firms in the world.
Meghan Markle who is a bi-racial, revealed that there were questions raised about the skin tone of Archie, their first child. She said that it was very hard for her to categorize the conversations. She admitted that she was so hurt that she considered suicide amid her alleged mistreatment.
She also confided that she was very concerned about her son not having a royal title because it meant he wouldn't be provided security.
Meghan Markle – Prince Harry's revelations during Oprah interview left the internet shocked.
In the interview, Meghan revealed that she felt cornered and even experienced suicidal thoughts. This 39-year-old advocated for women to raise their voice but the sad irony was that she had been silenced by "the Firm" – which Elizabeth heads – and that her pleas for help while in distress at racist reporting and her predicament had fallen on deaf ears.
The couple shared their experience of living with the royal family. Both of them said that they lacked support from the family and also revealed how many had raised concerns about the colour of their son Archie's skin.
Meghan revealed that the conversations the family had regarding their son were relayed to her by Harry. Harry added that his family had cut them off financially and that his father Prince Charles, heir to the British throne, had let him down and refused to take his calls at one point.
Meghan expressed that right from the day of her star-studded wedding in Windsor Castle, Meghan understood that she was not being protected but that they were willing to lie to protect other members of the family and described some unidentified members of the royal household as brutal, mendacious and guilty of racist remarks. She also accused Kate, the wife of her husband's elder brother Prince William, of making her cry before her wedding.
Really let Down
Harry and Meghan made an announcement in January 2020, that they intended to step down from their royal roles plunged the family into crisis. However, Buckingham Palace confirmed the split would be permanent last month. Harry said that they tried to sort out things but it did not work. He said that his father stopped taking his calls at one point. He added that he had three conversations with his grandmother, and two conversations with his father before he stopped taking Harry's calls.
In the interview, Harry said Meghan had saved him from his trapped royal life. For that Meghan said that she disagrees with him. In fact she said, 'I think he saved all of us. You made a decision that certainly saved my life'
The Queen's response
Buckingham Palace's responded 36 hours after the Duke and Duchess of Sussex made a series of damning accusations. They released a statement that "The whole family is saddened to learn the full extent of how challenging the last few years have been for Harry and Meghan"
"The issues raised, particularly that of race, are concerning. While some recollections may vary, they are taken very seriously and will be addressed by the family privately."The statement adds: "Harry, Meghan and Archie will always be much loved family members."
Whatever maybe the circumstances, it would have been better if the same conversation would be held in private and make it a family affair rather than in a tell- all interview and spill the beans all over the world.