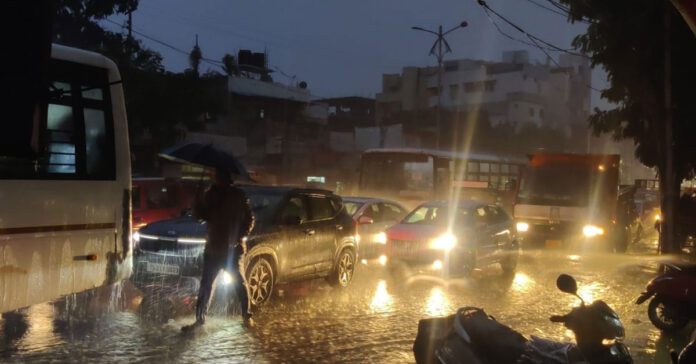 Heavy rains accompanied by hailstorm and strong winds lashed many parts of Hyderabad city on Tuesday night.
According to news reports, The rainfall started in north, east, and western parts of Hyderabad before spreading to the south. Around 9 pm on Tuesday, several areas in the city had received substantial rainfall.
RC Puram received 79.8 mm rainfall
Gachibowli received 77.5 mm rainfall
Medchal district Keesara received 75mm Rainfall
Siddipet district Gandipalli received 69.3 m
The Ushodhaya colony park, BR Ambedkar Bhavan, and Jeedimetla localities at Qutbullapur mandal received 60.5 mm, 55.5 mm, and 53.3 mm of rainfall, respectively.
The University of Hyderabad locality was not spared either, receiving 50 mm of rainfall.
GHMC has been alerted about the strong winds. Meteorological department officials said that there may be rain again and warned people to be vigilant and not to come out unless it is an emergency.
ALSO READ: Hyderabad: Heavy rains lashes with hailstorms near Charminar