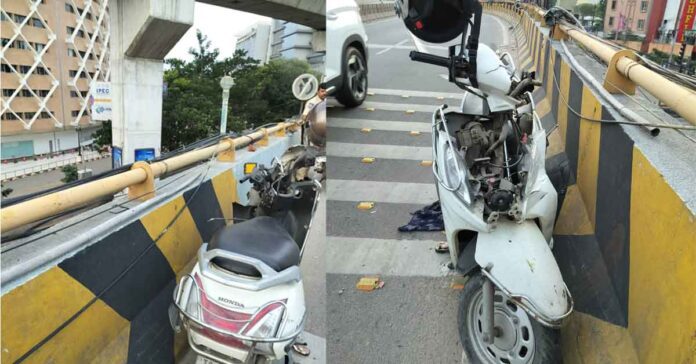 A 22-year-old woman died in an accident on the Hitech City flyover while she was traveling with her friend on August 17. Her friend, who was riding the bike was injured.
The victim Sweety Pandey, and her friend Ryan Luke were traveling on a bike. The accident occurred on Thursday evening on the way to Ikea from the top of the Hi-Tech City flyover.
According to the police, Sweety Pandaey is a native of Kolkata and is working in a private company in Hyderabad. Sweety lives near Lower Tankbund. Both were traveling on the Hitech City flyover. Ryan Luke was riding the bike, he lost control of the bike due to high speed.
Due to overspeeding, the bike hit the wall on the flyover. As Sweety was sitting on the back of the bike, she fell off the flyover on the road below and sustained head injuries. Ryan fell on the road on the flyover. Both of them were shifted to a nearby hospital. Sweety was dead while undergoing treatment. Ryan Lueke, who is severely injured is in the hospital for treatment.
Madhapur police registered a case for negligent and rash driving and took up further investigation.
#Hyderabad: A 22-year-old woman died after falling from a flyover as the two-wheeler she was pillion riding hit the flyover protection wall in Hitec City.

Her friend, who was riding the two-wheeler, was injured. pic.twitter.com/V67K2HcRsn

— IANS (@ians_india) August 18, 2023
ALSO READ: A Woman dragged on car bonnet in Hanumangarh, Rajasthan