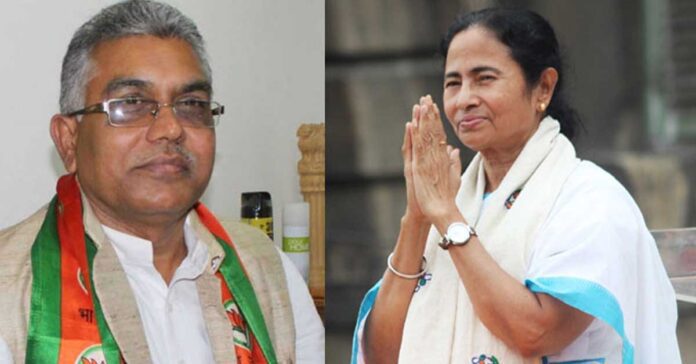 BJP recently launched a new campaign against CM Mamata Banerjee named as "Dilip da against corruption" which is a part of their larger campaign of 'Bengal against corruption' ahead of the state polls due in 2021.
Before 2021 elections the state BJP decides to be positioning state president Dilip Ghosh as its chief ministerial face against Mamata Banerjee.
TMCP in West Bengal already launched ' Didike Bolo' initiative as referred by election strategist Prashant Kishore. In response to this, Wednesday BJP in West Bengal launched a program called Durnitir biruddhe Dilip da (Dilip da against corruption).
According to party sources it is a part of their larger campaign of 'Bengal against corruption' ahead of the state polls due in 2021.
They used the word 'Satatar Pratik (symbol of honesty)' as their main focus, which was earlier used in the TMC campaigns. They likewise TMC also launched a helpline and an email ID for people to register any case of corruption against the ruling dispensation.
According to Dilip Ghosh Bengal become the epitome of corruption, where CM herself asked her party members to return cut money they have taken from poor people in return for benefit of government schemes.
He also added during this COVID-19 pandemic situation corruption cases didn't decrease. Food grains did not reach godowns for distribution, but they reached the market for sale
He said he asked people to be a part of poribortan (change), interestingly the same thing was promised by Mamata Banerjee in 2011.
In March, the state BJP already launched a campaign named as 'Aar Noy Anayay (No More Injustice)', against Banerjee's 'Didi k Bolo' initiative. Union Home Minister Amit Shah, while participating in a public rally in March, had asked people to reply to 'Didi ki bolo' campaign by saying 'Aar Noy Anayay'.
The campaign aimed to connect with 5 crore voters in the next six months and it was well received in the state, said party leaders. According to BJP source the latest campaign is part of the party's strategy to position Ghosh as the face against Mamata, though the party has not decided its CM face yet.
Dilip Ghosh said that there was large scale loot in distribution of compensation to those whose houses were damaged in Cyclone Amphan in May, but the administration was a mute spectator.
Several protests happened in North 24 Parganas, South 24 Parganas, Nadia and Howrah (in this connection). State BJP decided to send all the complaints to Delhi.
BJP national secretary Rahul Sinha said that it is a personal programmer of Dilip da as the programmer is centered around him. But, at the same time party will benefit out of it.
After its spectacular victory in the 2019 Lok Sabha elections in which the BJP managed to win 18 seats, increasing its tally from two in 2014, the party in January this year re-elected Ghosh to lead the unit in Bengal. He has been heading the party in Bengal since 2015.
According to BJP source Ghosh's aggressive nationalist attitude, RSS training to build grassroots structure have helped the party achieve 40 per cent vote share in 2019 — up from 17 per cent in 2014, and one crore members.
He is a natural claimant for the top post if the BJP decides to fight the elections by announcing its CM face, added the source. Also, the Centre's effort to promote party leaders Rupa Ganguly and Rahul Sinha didn't benefit them.
Ghosh's reappointment, however, didn't go down well with some party leaders, with one of them being Mukul Roy. Besides Ghosh, Mukul Roy and Tathagata Roy, Union minister Babul Supriyo is also one of the claimants to the top post, said party sources. Supriyo has several times shown disagreement with Ghosh's strategy to win the state, they added.
Such disagreement with Ghosh's strategy also came to light following the party's defeat in Delhi elections earlier this year. While BJP Rajya Sabha MP Swapan Dasgupta had said ideological issues must be supplemented by governance agenda, Ghosh had said the party needed to stick to its ideological issues.
ALSO READ: BJP's second campaign of "Pappu 2" Targets Aaditya Thackeray