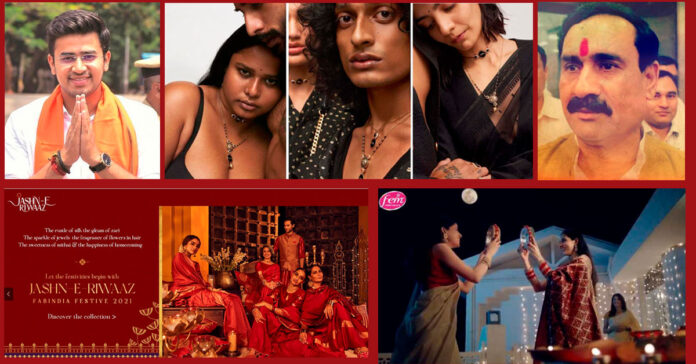 Controversial Ads in India: Many companies with popular brands look forward for Diwali festival to start their product promotion. This is done by either by advertisements or campaigns. Most of the brands come up with innovative ideas and creative advertisements to attract their consumers.
Advertisements made
Likewise, FabIndia attracted its viewers through an ad which was elegantly made. Unfortunately, it itched the 'cultural gatekeepers' and few politicians. They protested that this Ad was against the culture and tradition of our country. They made a big hue and cry about it. Eventually, the FabIndia withdrew its Ad.
Three Ads
Fab India started a campaign 'Jash-E-Riwaaz'. In this campaign it showed women adorned with beautiful outfits depicting festivities of this season. However, the word 'Riwaaz' irked the BJP MP. Hence, it had to withdraw its Ad.
Similarly, Dabur's bleaching product, Fem, showed a same-sex couple celebrating 'Karwa Chauth'.
In addition to this, the popular designer Sabyasachi Mukherjee released an Ad, which irked the 'Cultural gatekeepers' again. In this advertisement, a dark-skinned woman is seen embracing a man with low-cut top and a 'Mangalsutra' in her neck.
Offending Ads
Subsequently, they was so much of opposition regarding the advertisements that all of them withdrew their respective ads.
However, the viewers felt that the ads were extremely progressive.
Contrary to this, many feel that it is a welcome step in the right direction. The so called 'brainwashed' feel that these ads malign our culture and brings disgrace to Hindus culture and tradition.
Cultural gatekeepers
Added to this, the BJP politicians interfere with the weird ideas in the name of 'cultural gatekeeping'. 'Cultural gatekeepers' raised objections and concerns for which warnings of dire consequences were given.
Intolerance
According to the Indian constitution, we are a secular country with diversified beliefs and freedom of speech. However, polarization of ideas is going in a wrong direction. People have become intolerant off late.
Our country needs such ads with impressionable ideas. Withdrawing such ads do more harm than good.