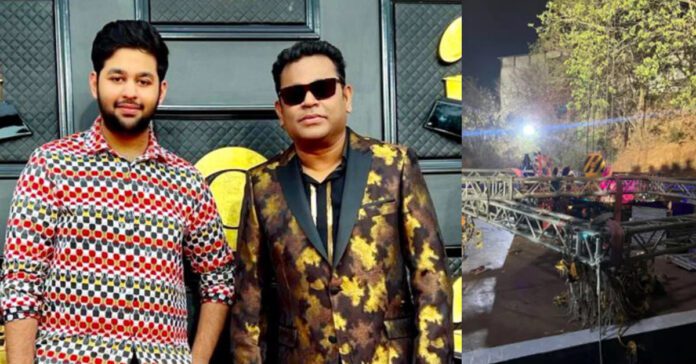 Music composer and singer AR Rahman's son, AR Ameen, had a narrow escape recently, it would have turned into a major and fatal accident on his shooting set. The chandeliers came crashing down from the crane, after which the music composer's son is still shell-shocked. Consequently, the ace singer issued a statement asking for world-class safety standards on sets.
AR Rahman said that the safety standards should be raised on the sets and locations so that mishaps could be prevented. Further, Rahman also stated that his son AR Ameen and his styling team had escaped a major tragedy a few days back. But, by the grace of the almighty, there were no injuries after the accident at Film City, Mumbai.
AR Ameen took to Instagram and told about the incident. Firstly, he wrote, 'I am thankful to the Almighty, my parents, family, well-wishers, and my spiritual teacher that I am safe and alive today'.
He further wrote, 'Just three nights ago, I was shooting for a song and I trusted the team to have taken care of the engineering and safety. Apparently, Ameen focused  more on performing in front of the camera trusting his team.
Unfortunately, the whole team and Ameen are still shell-shocked imaging the consequences of the collapse. The whole truss and chandeliers crashed down dangerously. They were suspended from a crane. Ameen was standing right in the middle of the spot. He said, 'If it were a few inches here and there, a few seconds earlier or later, the whole rig would have fallen on our heads'.
However, Ameen and his team are still in a state of shock and are unable to recover from the trauma. 
ALSO READ: Hyderabad: Amitabh Bachchan injured during film shoot Project K