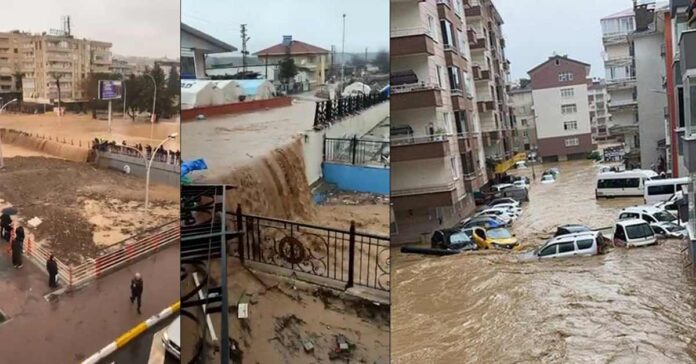 This video shows floods waters sweeping people and cars down streets in Turkey, Şanlıurfa. which was hit by deadly earthquakes in February. 
According to sources, at least 5 people were killed and  5 others went missing in the floods that hit Turkey's southern provinces. The region is still struggling to recover from effects of massive earthquake last month. At least 4 people were killed and 2 firefighters were missing in Sanliurfa province area.
Emergency teams are searching for missing people and rescuing those trapped in their homes.
Turkey Floods
THE DISASTER CONTINUE
The tents of the earthquake victims flooded.#sanliurfa #Turkey #earthquake #Urfa pic.twitter.com/DQW1tyklkG

— JournoTurk (@journoturk) March 15, 2023
JUST IN 🚨 Massive floods hit Sanliurfa, Turkey – Streets turned into lake. This is the same place that was hit by strong earthquake in Feb pic.twitter.com/cykj8jcejt

— Insider Paper (@TheInsiderPaper) March 15, 2023
Şanlıurfa'da selde mahsur kalanları iş makineleri ve iplerle kurtardılar pic.twitter.com/baugtrgaVk

— İhlas Haber Ajansı (@ihacomtr) March 15, 2023
Massive flood at Urfa, Turkey 🦃.

Not again Allah! pic.twitter.com/Hyci2O8gCz

— Hardik🚩 (@iHardikB) March 15, 2023
#Şanlıurfa 'da yaşanan sel sonrası Hilvan – Bozova yolu Ördek Köyü noktasında sel suları karayolunu yuttu. pic.twitter.com/nXGmYF9E6d

— 23 DERECE (@yirmiucderece) March 15, 2023
ALSO READ: Earthquake of magnitude of 7.8 rocks Syria, Turkey and Lebanon