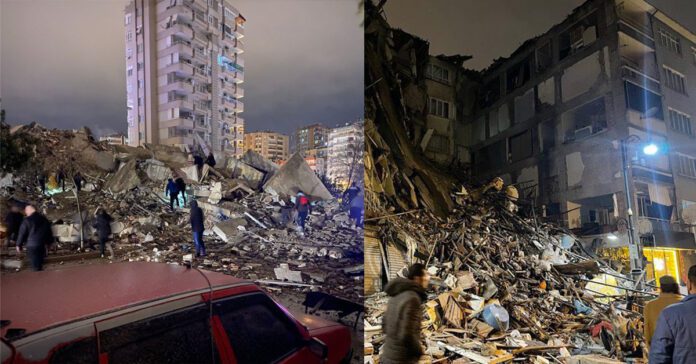 The Earthquake which rocked Turkey and Syria had a magnitude of 7.8. Unfortunately, another strong tremor shook the region with a magnitude of 7.5. Consequently, hindering the ongoing search and rescue operations.
Moreover, the impact was seen even after nine hours of the earthquake. The first earthquake occurred at 4.17 AM local time on Monday, 6 February. There were dozens of after shocks, which have been shaking Turkey and neighboring countries of Syria, Lebanon, and Cyprus.
The earthquake toppled hundreds of buildings, killing more than 1,300 people and at least 6,000 injured in Turkey and Syria. According to the US Geological Survey said the earthquake was centred about 33 kilometers from Gaziantep in southeastern Turkey near the Syrian border. The USGS showed that the earthquake was 18 kilometers deep.
UPDATE: Destruction caused by 7.8 mg #earthquakes in #Turkey. pic.twitter.com/QZHxC4VdWf

— Syed Zabiullah Langari (@syed2000) February 6, 2023
ALSO READ: Nepal Earthquake: 6 persons dead, Tremors felt till Delhi