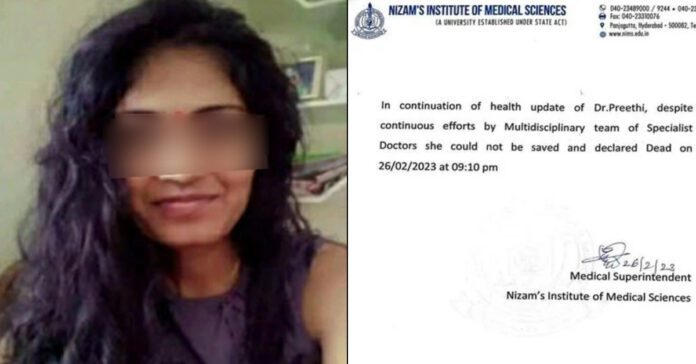 In a tragic incident, Dr. Preethi, a 26-year-old medico student from KMC Warangal passes away while undergoing a treatment at NIMS hospital on Sunday 9.00 PM. She was admitted in the hospital on the pretext of attempting suicide after facing continuous harassment from her senior Dr. Saif.
Preethi was admitted to the NIMS hospital in a critical state. Despite continuous efforts by Multidisciplinary team of Specialists, the doctors could not save and declared dead on 26th February 9.00 PM.
Warangal medico Dr. Preethi passes away:
Dr. Preethi, a medical student from KMC Warangal, who attempted suicide after being harassed by accused Dr Saif, is no more.
She battled for her life for 4 days in NIMS hospital but could not be saved.
Justice for Doctor Preethi, Anshul Saxena tweeted.
Dr Preethi, medical student from KMC Warangal who attempted suicide after being harassed by accused Dr Saif, is no more.

She battled for her life for 4 days in NIMS hospital but could not be saved.

Justice for Doctor Preethi. pic.twitter.com/X07fdSjLVO

— Anshul Saxena (@AskAnshul) February 27, 2023
ALSO READ: Warangal Preethi Suicide Case: Sr. Doctor arrested for harassing the junior