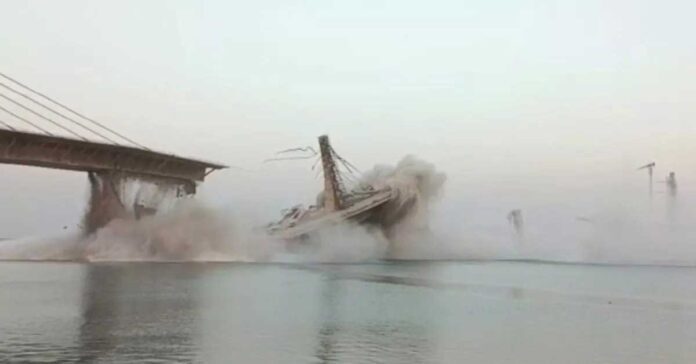 An under-construction bridge over the Ganga river collapsed in Bhagalpur district of Bihar, on Sunday. This happened the second time in a year, showed a video. The moment when bridge collapsed was caught on video by locals.
The incident occurred when four-five pillars of the Aguwani-Sultanganj under-construction bridge collapsed into the Ganga river," the official said.
No casualties were reported so far in the collapse of the Aguwani -Sultanganj bridge that connects Bhagalpur with Khagaria district, he said. 
The Aguwani Sultanganj Ganga bridge was being constructed in Bihar's Khagaria with a cost of over Rs 1,700 crore. The bridge, inaugurated in 2014 by Nitish Kumar, connects Sultanganj and Khagaria. The bridge had also suffered some damage back in April 2022 due to a storm.
According to news reports, the construction of the bridge started on March 9, 2015. The completion date of the project was March 2019. As the project was not completed on time, the Bihar government then extended the deadline to June 2022. 
#WATCH | Under construction Aguwani-Sultanganj bridge in Bihar's Bhagalpur collapses. The moment when bridge collapsed was caught on video by locals. This is the second time the bridge has collapsed. Further details awaited.

(Source: Video shot by locals) pic.twitter.com/a44D2RVQQO

— ANI (@ANI) June 4, 2023
Few more visuals from Ganga river bridge collapsed in Bihar 
बिहार में गंगा नदी पर बन रहा पुल गिरा: 4 पिलर भी नदी में गिरे, एक साल पहले भी इसी पुल का स्लैब गिरा था#BiharBridgeCollapse #GangaRiver

अधिक खबरें और ई-पेपर पढ़ने के लिए दैनिक भास्कर ऐप इंस्टॉल करें – https://t.co/hO3HVqcM49 pic.twitter.com/34fqaIztNS

— Dainik Bhaskar (@DainikBhaskar) June 5, 2023
ALSO READ: Bihar: Bridge collapses into a river before its Inauguration