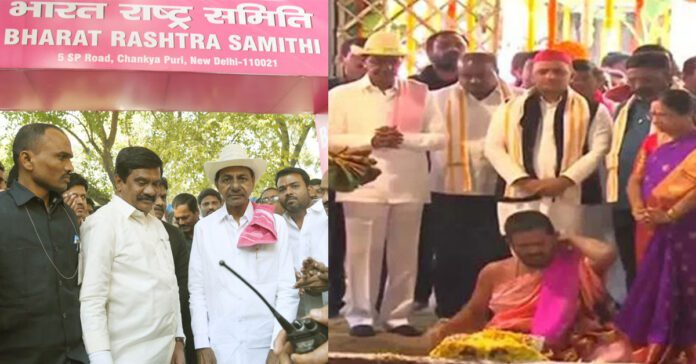 Telangana Chief Minister K Chandrasekhar Rao (KCR) inaugurated his party, Bharat Rashtra Samithi's (BRS) office in New Delhi on Wednesday.
Previously, they took part in the Rajasyamala Yagam and Purnahuti with family, former leaders, and BRS party members.
According to the muhurtas, KCR introduced and hoisted the BRS party flag. Followed by the inauguration of the party office and then took charge of his chamber in the party office.
Live : CM Sri K. Chandrashekhar Rao inaugurating Bharat Rashtra Samithi (BRS) office in New Delhi. https://t.co/CTJ0EYzxxi

— BRS Party (@BRSparty) December 14, 2022
Former Uttar Pradesh CM and Samajwadi Party Chief Akhilesh Yadav, Karnataka CM HD Kumaraswamy, Former Leader Gurnam Singh, and BRS MLAs and MPs were present at the inauguration of the BRS party office.
CM KCR has opened a BRS party office in New Delhi in order to play a larger role in national politics. It is a temporary office on Sardar Patel Marg. A permanent BRS party office building is being built in New Delhi's Vasant Vihar area. It is planned to be finished in March 2023.
Samajwadi Party chief Akhilesh Yadav, JD(S) leader HD Kumaraswamy and others arrive at the Bharat Rashtra Samithi (BRS) office inauguration in Delhi.

Telangana CM and party chief K Chandrasekhar Rao also present here. pic.twitter.com/5EGa7SE8jB

— ANI (@ANI) December 14, 2022
ALSO READ: Hyderabad Airport Express Metro, CM KCR lays foundation stone