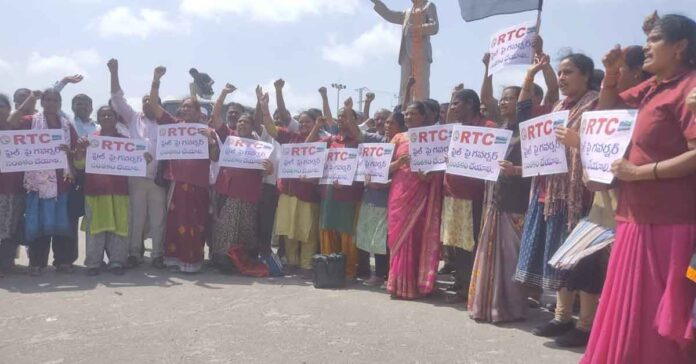 On Saturday morning in Hyderabad RTC employees stage protests against Governer Dr. Tamilisai Soundararajan demanding TSRTC merger bill approval.
According to Telangana Today, The government has drafted a bill merging the RTC into the government. The bill was sent to Governor Tamilsai for approval. But Governor has not signed the bill due to various reasons. RTC workers staged a protest in various city in Hyderabad.
TSRTC union and staff has stopped buses from 6 AM to 8 AM. Dharnas were held in front of the bus depots. Due to this, bus services were stopped for two hours all over the state. The unions had also called all the RTC employees to gather at PVNR Marg around 10 AM and proceed to stage a dharna at Raj Bhavan around 11 AM.
TSRTC employees stage protests
ఆర్టీసీ విలీనం బిల్లుపై గవర్నర్ తమిళ సై ఆమోదించక పోవడానికి నిరసిస్తూ బస్సుల బందుకు పిలుపునిచ్చిన ఆర్టీసీ కార్మిక సంఘాలు కార్మికులు…
ముషీరాబాద్ ఆర్టీసీ బస్సు డిపోల నుంచి కదలని బస్సులు.#TSRTC #Telangana pic.twitter.com/IvGwZxlVzm

— Sarita Avula (@SaritaTNews) August 5, 2023
ALSO READ: Telangana Govt to launch Common Mobility Card for Metro Rail and RTC buses