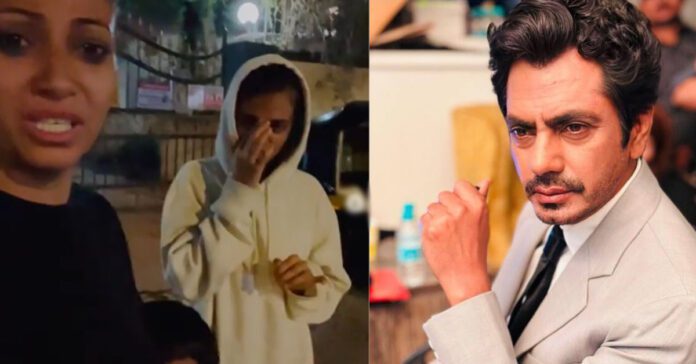 According to a video which is viral on the social media alleges that Nawazuddin Siddiqui threw his wife and kids out of his bungalow. It is seen that Nawazuddin Siddiqui's daughter is crying inconsolably. Moreover,  his wife Aaliya and kids claim that they have been stopped from entering the actor's bungalow.
Nawazuddin's children were seen crying on the road in the middle of the night.
On Friday, Aaliya claimed that Nawazuddin is not allowing her and kids to stay in the house. She also alleged that he has deputed guards to stop them from entering into the house. Aaliya made these claims in a video and uploaded them on her Instagram.
She also wrote a long post on Instagram.
Nawazuddin Siddiqui's estranged wife, Aaliya, claimed that she and their children have been restricted from entering their Mumbai house.#NawazuddinSiddiqui reacts to claim that he has already bought a lavish flat for Aaliya in Mumbai which she has given for rent at her own will pic.twitter.com/oOlC92CWRd

— Raajeev Chopra (@Raajeev_Chopra) March 3, 2023
However, the truth is not yet out as the other side of the story is not known. Nawazuddin Siddiqui hasn't reacted yet.
ALSO READ: Nawazuddin Siddiqui's wife Aaliya files for divorce, citing "several reasons"