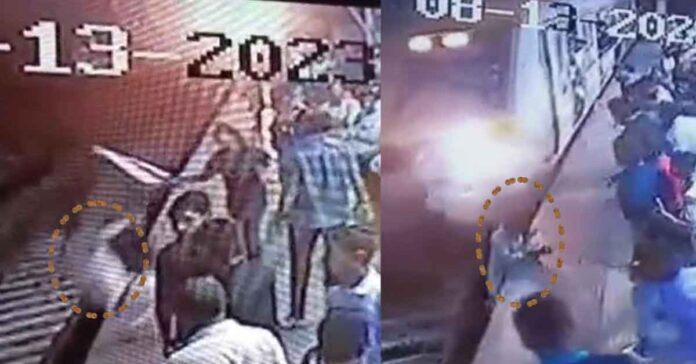 A 26-year-old man gets crushed under a train after being slapped by another man at Sion railway station in Mumbai.
The incident took place on Sunday around 9:30 pm. The entire incident was captured on a CCTV camera, which showed that the woman hit the man with an umbrella for allegedly misbehaving with her. Later, the woman's husband slapped him so hard that the victim fell on the track and got crushed under the local train.
According to the GRP police, The accused Sheetal Mane 30, and her husband Avinash 35, arrived at Sion station to travel to Mankhurd. While they were waiting for the train, Sheetal was pushed by a man accidentally. Sheetal argued and hit him with an umbrella.
Sheetal's husband Avinash noticed someone arguing with her. Avinash in a fit of rage, gave him a tight slap, resulting in the man falling onto the railway track. As he fell onto the track, a passing local train crushed him under the train.
Police have arrested the couple on the charges of culpable homicide not amounting to murder.
Man crushed under train in Mumbai
An innocent man lost his life just because a woman thought he was misbehaving with her. Her husband punched this man so hard that he fell on track & got crushed under the train. Incident caught on CCTV. Both Avinash Mane & Sheetal Mane have been arrested for culpable homicide pic.twitter.com/YdnP9zpUON

— Deepika Narayan Bhardwaj (@DeepikaBhardwaj) August 17, 2023
ALSO READ: Hitech city flyover accident: Woman dies after falling from flyover