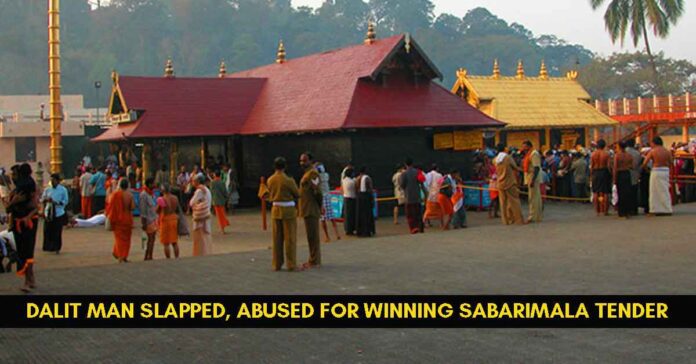 A Dalit man was allegedly attacked, abused, and slapped on the face in front of the public by two persons for winning a Sabarimala tender. The tender was invited by the Travancore Devaswom Board to prepare 'unni appam' at Sabarimala temple in the upcoming pilgrimage season.
The incident took place on 2nd September. The accused, identified as Jagadeesh and Ramesh aka Krishnankutty, are currently absconding.
According to police, Subi (tender winner) a resident of Thiruvananthapuram, had recently won the Sabarimala tender to prepare 'unni appam'. The accused abused Subi and asked why he participated in the tender process when the temple belonged to "Hindus and not Pulayas." Both of them abused and slapped on the face of Subi in front of the public.
Subi filed a complaint in the police station. Museum police registered a case under section 3 related to the issue.
Dalit man slapped for winning Sabarimala tender
Subi says "After winning the tender, I was standing at the parking lot of the Devaswom Board office in Nandancode. The accused approached me addressed me as 'playa' and asked me why I participated in the tender of Sabarimala, which belongs to Hindus and not Pulayas. They later threatened me that I would not be allowed to step into the temple compound. In front of all, they spat on my face as well".
He also added the accused had also participated in the tender. They were very upset over not winning the tender and it could be the reason for their violent behaviour. I had participated in the tender last time, too, but failed to get it. Failure and success are part of life but attacking somebody over that is unjustifiable.
However, police have registered a case and are trying to trace them, said an officer.
ALSO READ: Sabarimala temple reopens for monthly prayers, devotees are not allowed due to COVID-19