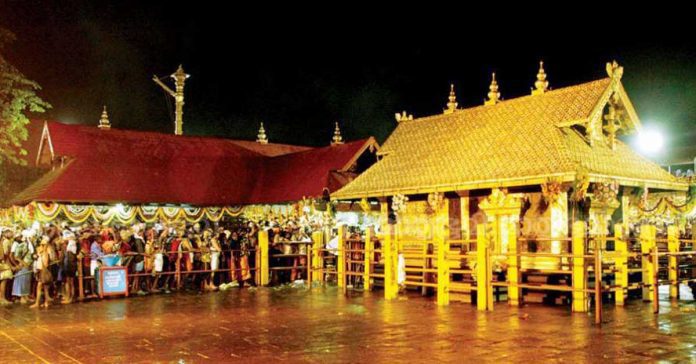 The Travancore Dewasom Board (TDB) had decided to reopen the famous Lord Ayyappa temple in Kerala's Sabarimala for the five-day monthly pooja (prayers) from Monday. The temple had reopened on Sunday, on the eve of the pooja in the Malayalam month of Chingam.
According to Covid-19 protocol, the barricadeon the entry of devotees will continue. The temple will close on August 21 evening after monthly puja.
The Travancore Dewasom Board (TDB), which runs 1000-odd temples in south Kerala, had decided to open all shrines under its control from August 17, Malayalam New Year Day, except Sabarimala.
The TDB felt that if Sabarimala temple is opened there will be devotees who would come to God from neighboring states and it will affect the measures to control Covid-19. This may cause spread of disease even more therefore they didn't open the temple for devotees.
Earlier the Board decided to initiate online booking system after furnishing Covid-free certificates for devotees but as the number of COVID-19 patients increased rapidly and also excess inquiries forced the TDB to stop this facility.
The Board's president N Vasu had earlier said that the annual festival pilgrimage season for Sabarimala starts from November 16. He said this is an event which has been going on for decades. The government, as well as the Travancore Devaswam board, wanted to celebrate this festival with all covid-19 limitations and restrictions.
The TDB has already asked the devotees to carry Covid-19 negative certificates for darshan during the over two month-long pilgrim season.They will be allowed entry only through a virtual queue system.
The decisions regarding this festival were taken at a high-level online meeting chaired by Devaswom Minister Kadakampally Surendran on August 10 to assess various arrangements before the start of the festival, no covid-19 precaution rule should be avoided. The Travancore Devaswam president also attends the meeting.
ALSO READ: Vaishno Devi shrine reopens for devotees, after 5 months