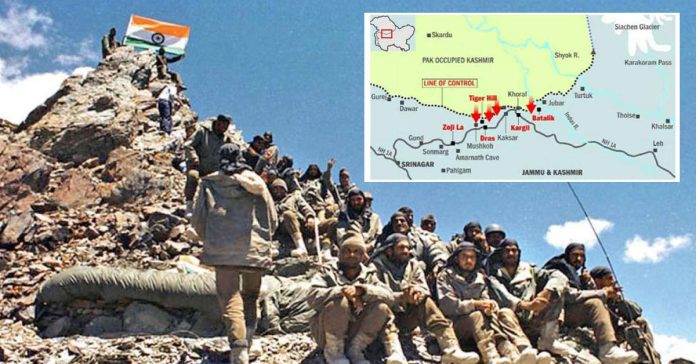 Today i.e., on July 26, 23 years ago, India won a historic battle against Pakistan at Kargil district, Jammu & Kashmir and named the battle as Kargil War. Since then, this day is celebrated as Kargil Vijay Diwas.
We at Avaaz24 shall analyse what the conflict was and how it ended.
History of India- Pakistan relations
Ever since, India and Pakistan got independence, the state of Jammu and Kashmir was always the bone of contention. Border dispute existed from the beginning.
Tashkent Agreement
In 1966, after the wars of 1947-48 and 1965, Indian Prime Minister Lal Bahadur Shastri and Pakistan's President General Ayub Khan signed an agreement at Tashkent.
As per the accord, both countries agreed to withdraw all armed forces to positions held before 5 Aug 1965. They decided to restore the diplomatic relations. Further discussions on the economic and refugee issues opened.
Indo- Pakistani War of 1971
In 1971, struggle for liberation in East Pakistan started. There was huge influx of refugees into Indian Territory. It forced India to intervene. This led to a 14 day war between India and Pakistan. Finally, a new nation of Bangladesh is created.
Shimla Agreement
In July 1972, in order to resolve the border tension and prevent further violence, Indian Prime Minister Indira Gandhi and Pakistan's Prime Minister Zulfikar Ali Bhutto signed the "Shimla Agreement".
As per it, in Jammu & Kashmir, Line of Control (LoC) was formally established.Both nations agreed to refrain from the use of military power and withdraw their forces along this line.
Lahore Declaration
In May 1998, both nations declared themselves as nuclear powers. This escalated the security concerns.
The then Indian Prime Minister Atal Bihari Vajpayee and Pakistani Prime Minister Muhammad Nawaz Sharif signed a declaration in Lahore on 20-21 Feb, 1999.
In this agreement, both sides pledged to take steps for reducing the risk of accidental and unauthorized use of nuclear weapons.
Pakistan's territorial claim over Jammu & Kashmir- its arguments
Jammu and Kashmir is a Muslim majority state and it should be a part of Pakistan.
People of J&K have a right to self-determination. They were promised a plebiscite for which India is refusing.
Government of India is violating Jammu & Kashmir people's human rights. It is therefore an obligation of Pakistan being an Islamic country to liberate J&K. Even, the international community has the responsibility.
How did the Kargil War break out?
All this agreements failed to arouse the people of J&K into a mass movement against India. Thus, Pakistan launched Operation Badr to invade J&K through Kargil Sector.
The Pakistani forces disguised as Kashmiri terrorists infiltrated on Indian side of Line of Control. They took over army's winter vacated posts.
On 3 May 1999, these intrusions were first detected. Consequently, Indian Army launched "Operation Vijay". Indian Air Force launched "Operation Safed Sagar" and Indian Navy started "Operation Talwar".
Finally, after 2 months of violent confrontation, the war came to end on 26 July, 1999. India was victorious and the Army announced complete eviction of Pak intruders.
Where did the Kargil War happen?
The war occurred through Mushkoh, Dras, Kaksar, Kargil and Batalik along the Line of Control. It was around 160 km at 18000 feet height. It stretched from Mushkoh valley to the Saltoro Ridge on the western flank of Siachen glacier.
Why the place Kargil?
It is a region of undoubted significance for the security of the valley.
If Pakistan would capture of the Kargil area it could interdict the highway from the valley to Ladakh. It will cut off India's approach to both Ladakh and Siachen.
All the previous failed Pakistani military operations against India in J&K had been launched on a Southwest, Northeast axis through Jammu.
So they felt that the attempt to strategically dominate the Kashmir Valley should be launched from a different location. Hence west to the Line of Control is targeted.
Pakistan's misconceptions: Causes of Failure
Pakistan had a number of false beliefs on which it thought that it would win the war.
[Assessment as Kargil Review Committee report headed by K. Subrahmanyam]
Indian Army and security forces would not be able to resist a coordinated large scale military onslaught in an unexpected manner in an unexpected area. (Indian media repeatedly reported shortages of army officers and equipment and its low morale)
Troops of Indian Army must be suffering from low morale because of its long term deployment in counter insurgency activities in Jammu and Kashmir and other parts in India.
Due to an inadequacy of resources east of Zoji La, India would not be able to efficiently stop the intrusions. Zoji La pass opens for traffic by the end of May or early June.
Vajpayee government would not have sufficient credibility to take firm decisions against foreign and aggression due to volatile and uncertain political situation within India.
Their coalition government would be busy in conducting general elections in the country.
Indian army doesn't have sufficiently trained troops in high altitude warfare.
Fear of possible use of nuclear weapons would bring in western intervention. Thus Kashmir issue will be by internationalized.
China would support Pakistan's military operations.
Unfortunately, many of their fallacies went wrong and they lost the war.
Significance of the Kargil War:
Kargil war was the second limited conventional war between two nuclear nations over a territorial dispute (first being Sino- Soviet Border conflict on the Ussuri River in 1969)
This armed conflict, lasted for 2 Month, 6 weeks and 2 days (from 3 May- 26 July 1999). 474 force personnel were killed and 1109 personnel were wounded during this war.
Since then, 26th July has been marked as Kargil Vijay Diwas [Victory Day].
ALSO READ: Is Har Ghar Tiranga in lieu with Flag Code of India, check the details