Towards the northeastern corner of Hauz-i-Shamsi (Shamsi Talaab built by Sultan Shams ud-Din Iltutmish of Slave Dynasty) in Mehrauli, South Delhi, lays a Lodi Era (1452-1526) construction called Jahaz Mahal.
Read more about Hauz-i-Shamsi at Hauz-i-Shamsi – Blog by Dr. K Sharmila Reddy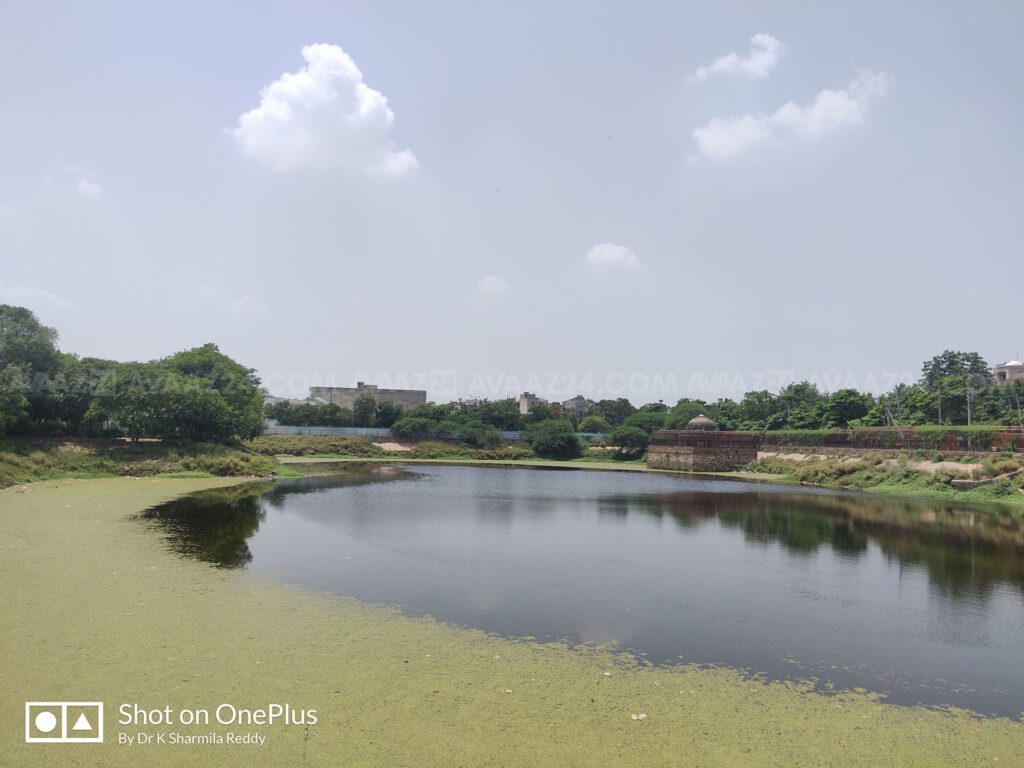 Concept of Jahaz Mahal:
It got its name because of its reflection in the rippling waters of the Hauz-i-Shamsi looked like a moving ship. The Persian word Jahaz means Ship.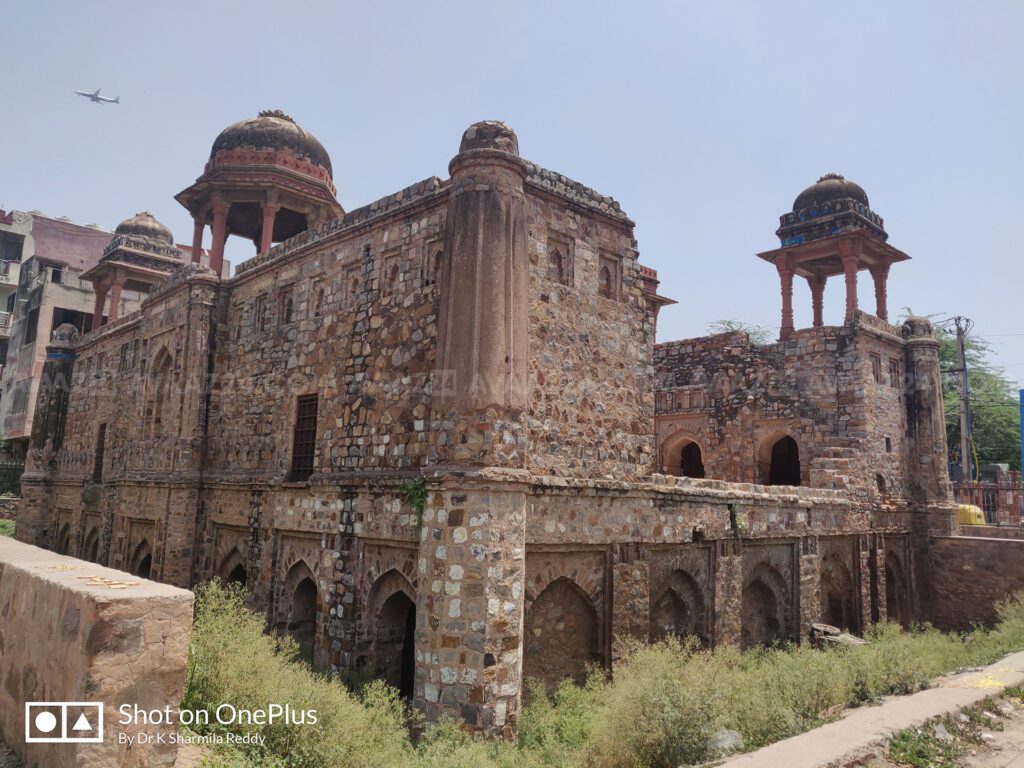 The original purpose for which this Mahal exists is uncertain. It is a Sarai of merchants. It provided transit accommodation to the pilgrims who came to Delhi to visit the Muslim shrines.
Some say that it is a palace of retreat for the emperors and their families during the summer months.

It is a mosque for private use due to the presence of Mihrab on its western wall according to a few. According to few, it was the residence of a holy man.
JAHAZ MAHAL- ARCHITECTURE
It consists of a rectangular courtyard in the center and arched chambers on the sides. It's entrance is to the east.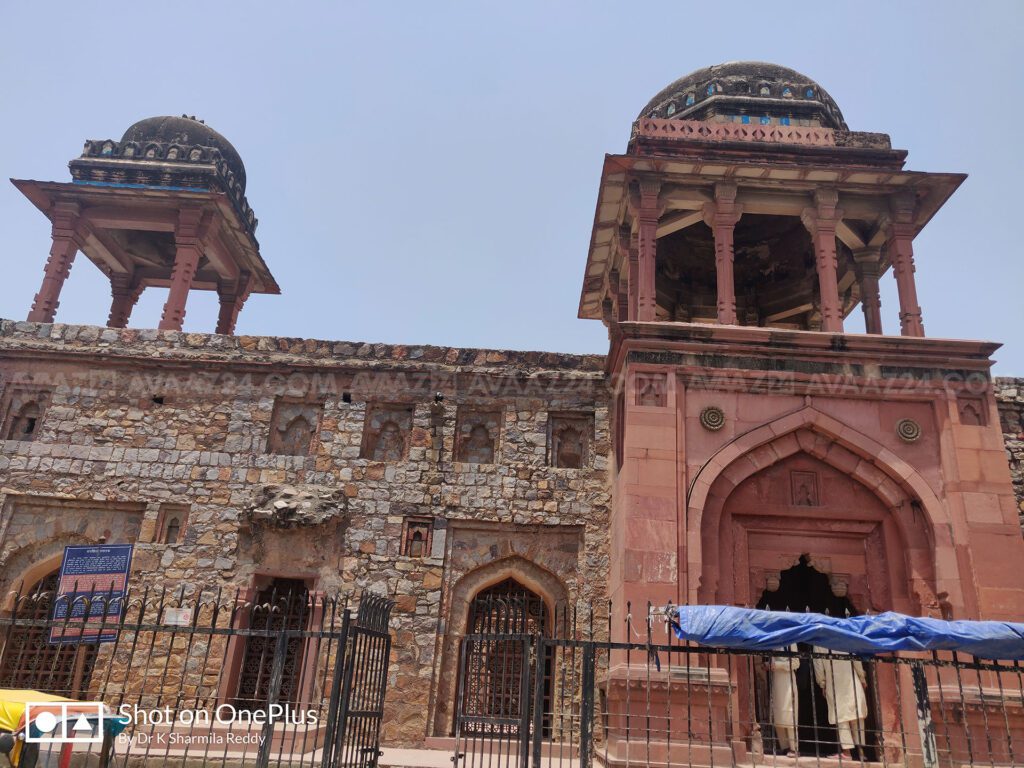 The courtyard was originally in rectangular shape. Due to the collapsed southern wall, it looks U shaped now.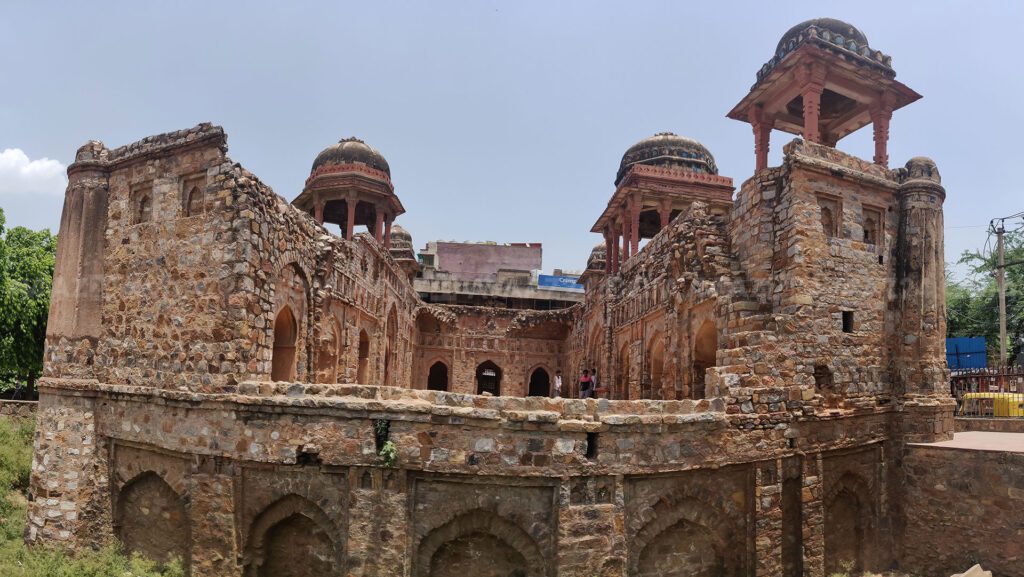 The U- shaped courtyard has several anti-chambers. Each chamber has a dome with decorative squinches.
The star attractions of the Jahaz Mahal are the Chatris with glazed blue tiles decoration.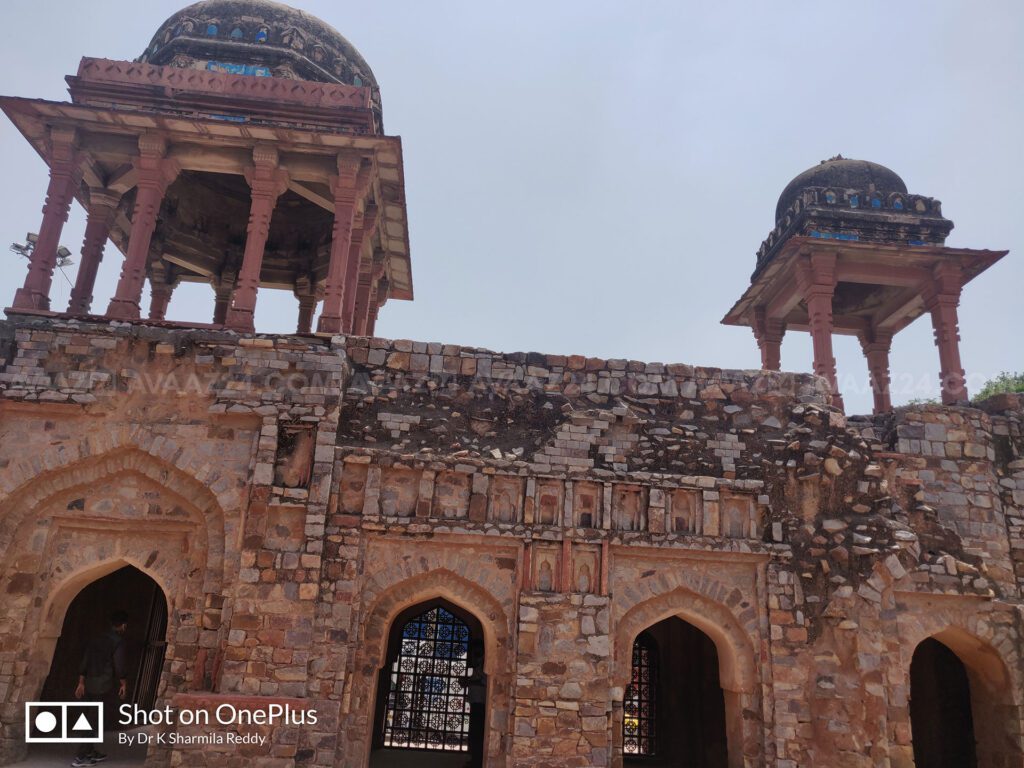 Five out of the six Chatris (with different number of pillars) have survived and only traces of glazed tile work remains today.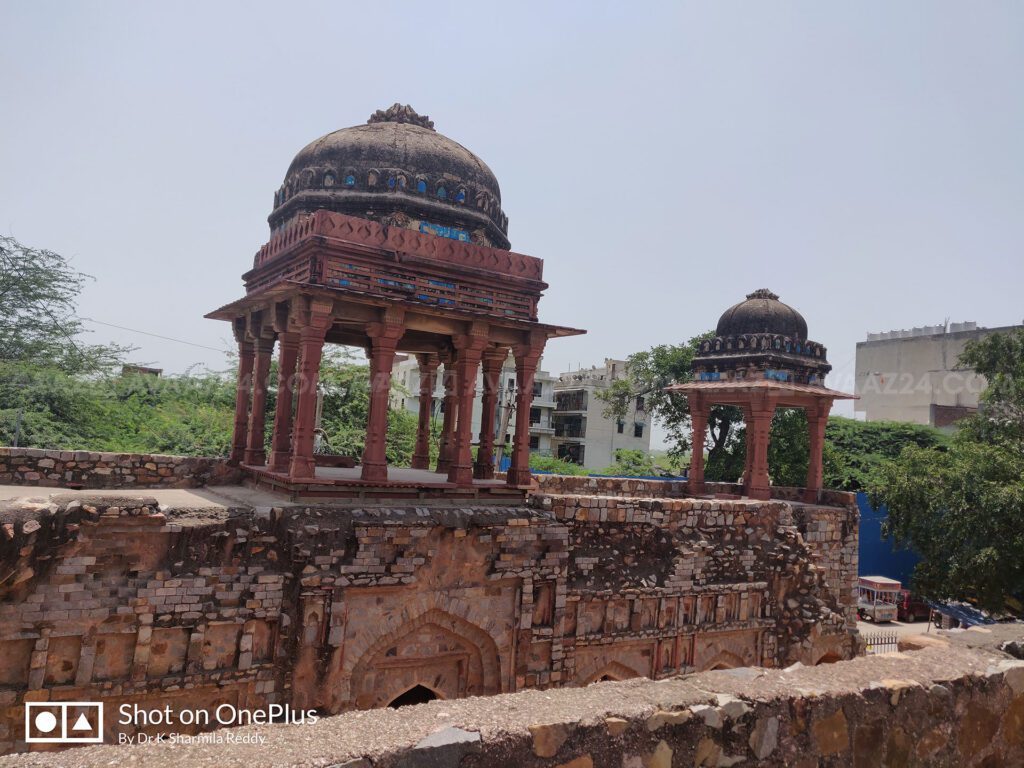 The corner Chatris are small and square shaped. They have four pillars each.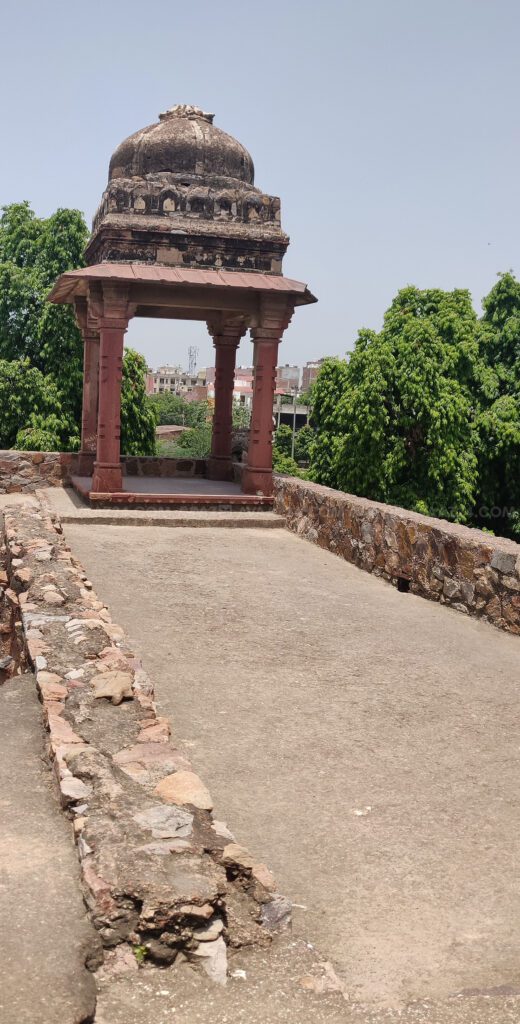 The massive square Chatri on the eastern entrance gate is the grandest of all. It has twelve highly decorated pillars.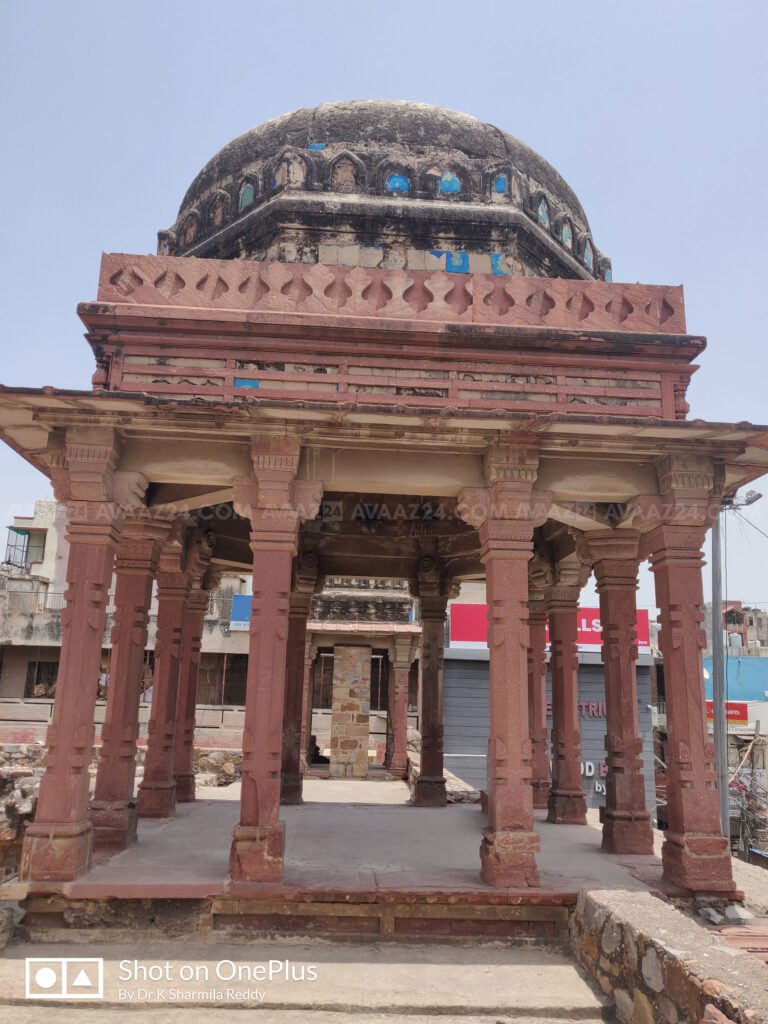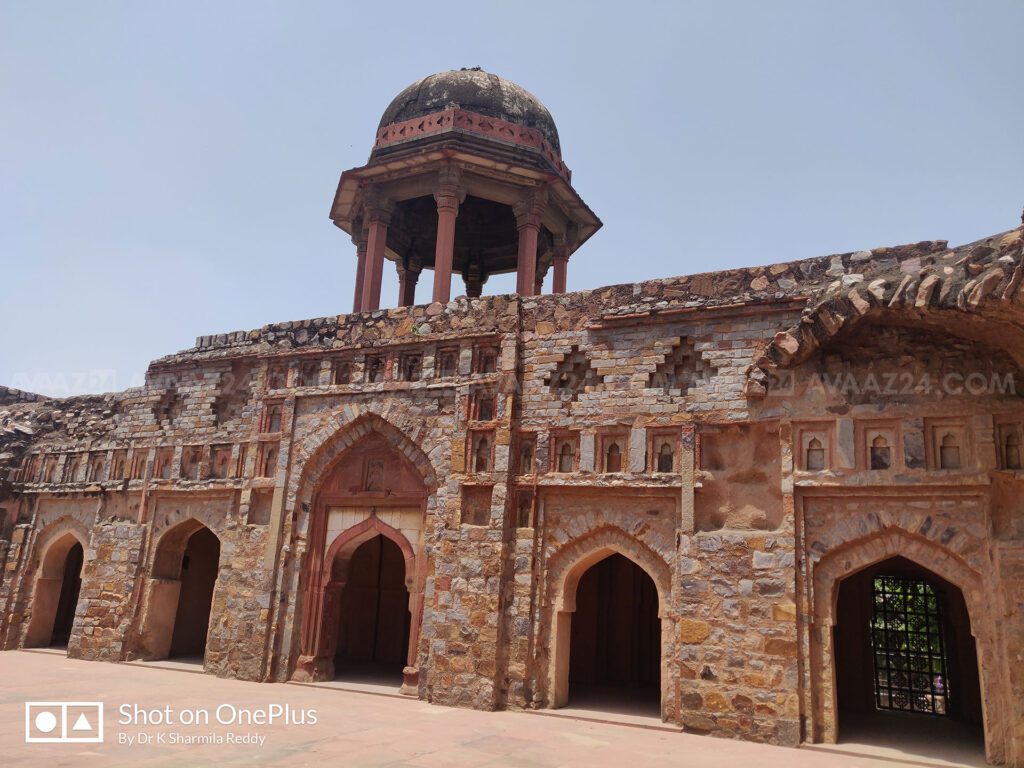 The Chatri on the middle of the western side, crowning the Mihrab is octagonal.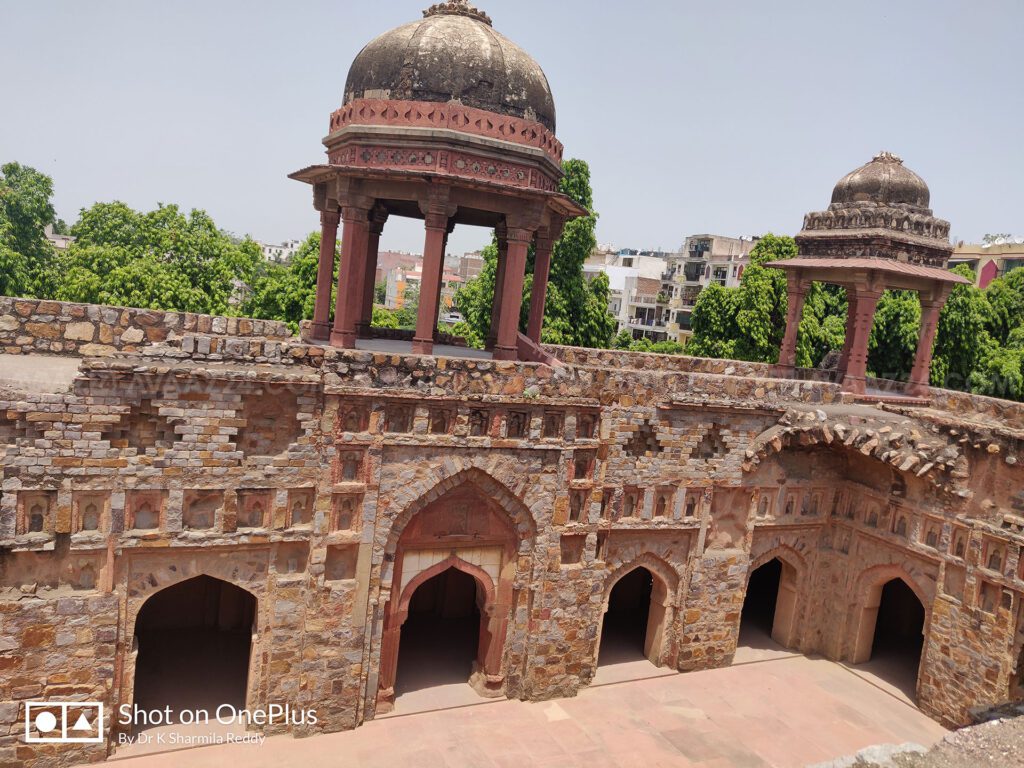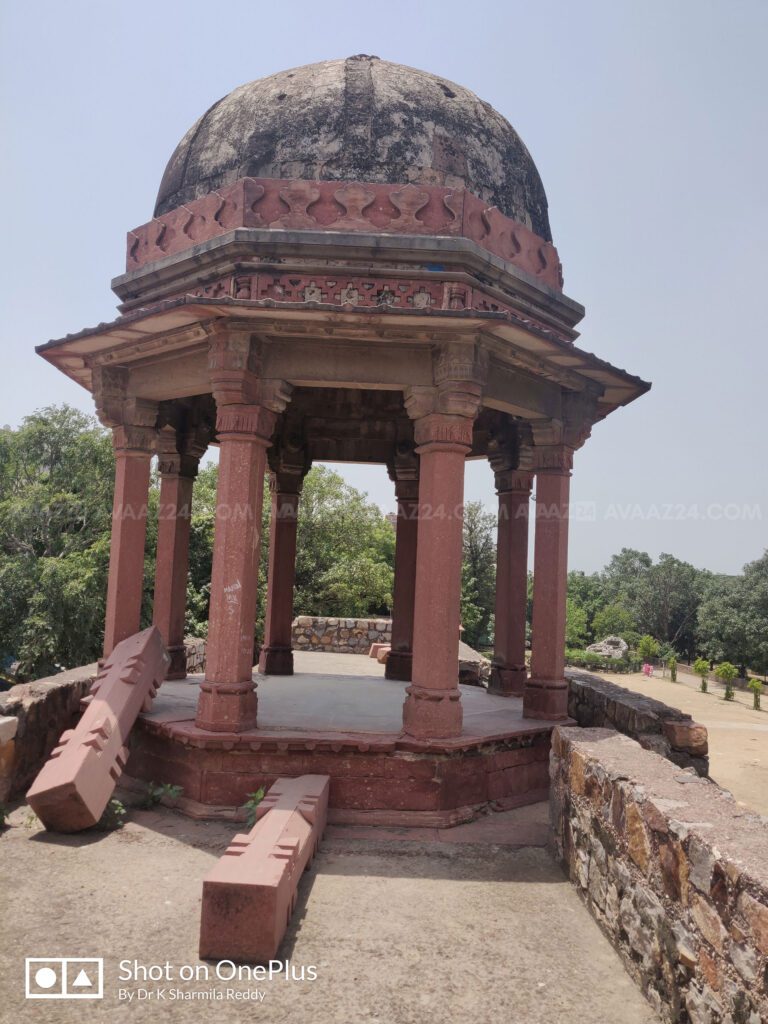 Chatri:
Chatri is a kind of trabeate domed canopy. The Persian word "Chatr" (Sanskrit Chattra) means an umbrella. It is an archetypical of vault of the heaven. The Persio-Arabic Suffix- I is added to it, as it is considered sacred.
See Chatri also at Sultan Ghari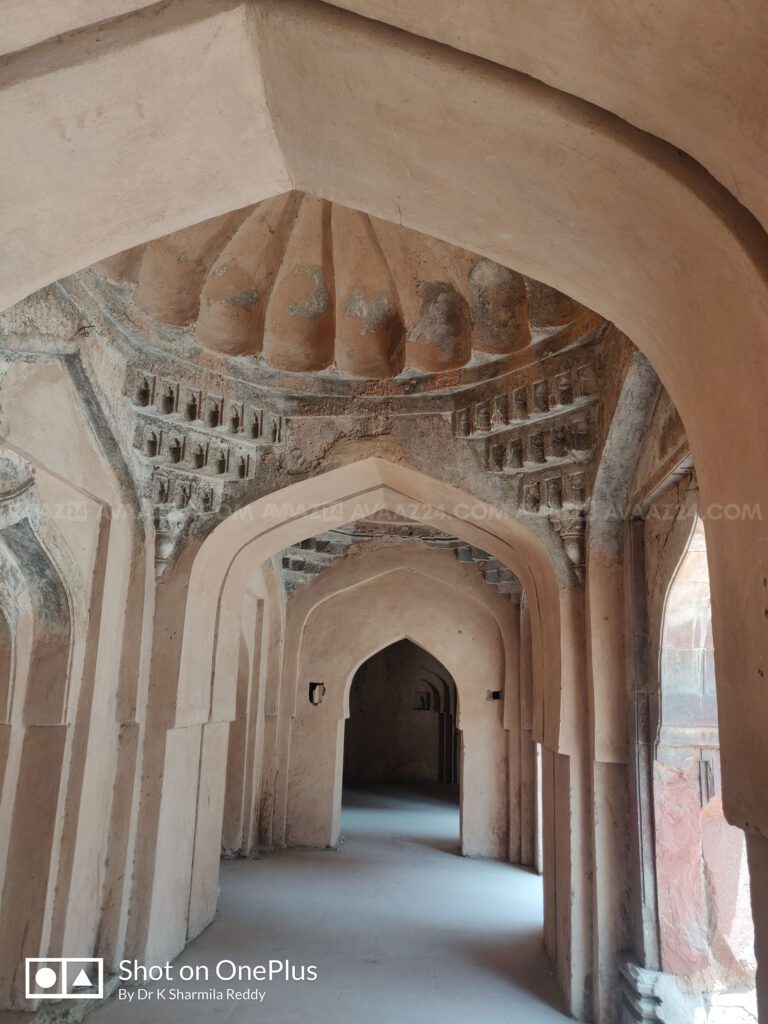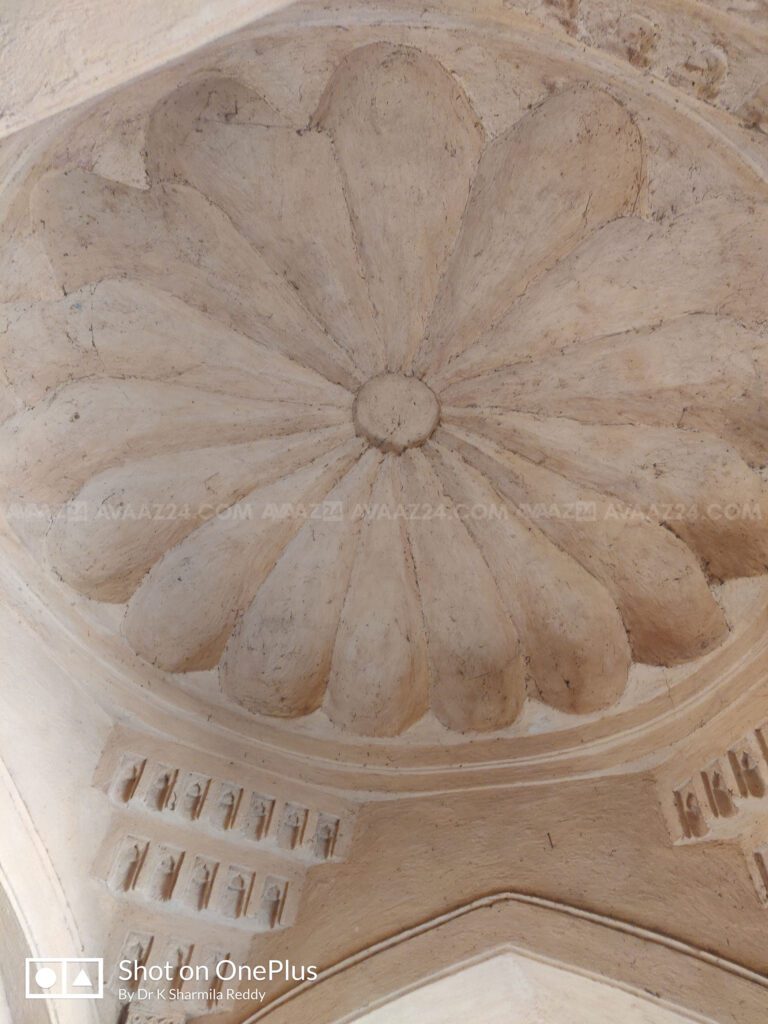 This U- shaped Mahal has a moat around it. However, it has no water now and is filled with vegetation.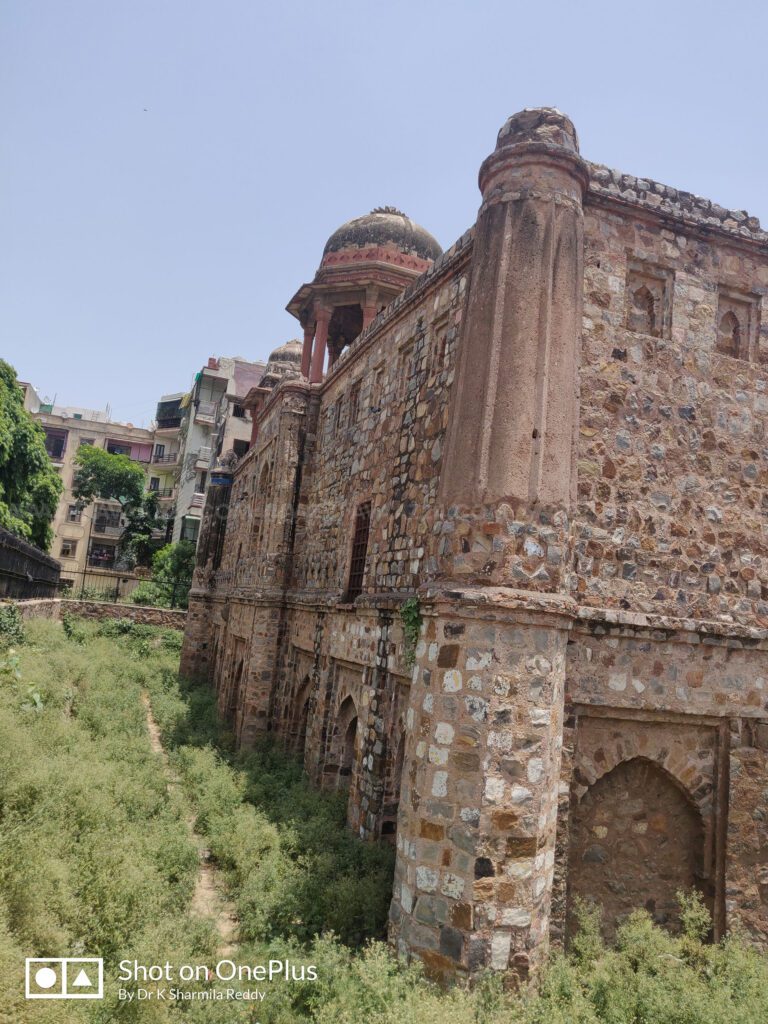 This flight of stairs on the southern end probably will lead into the Mahal via a wodden bridge across the Moat. The collapsed southern wall probably had another entrance.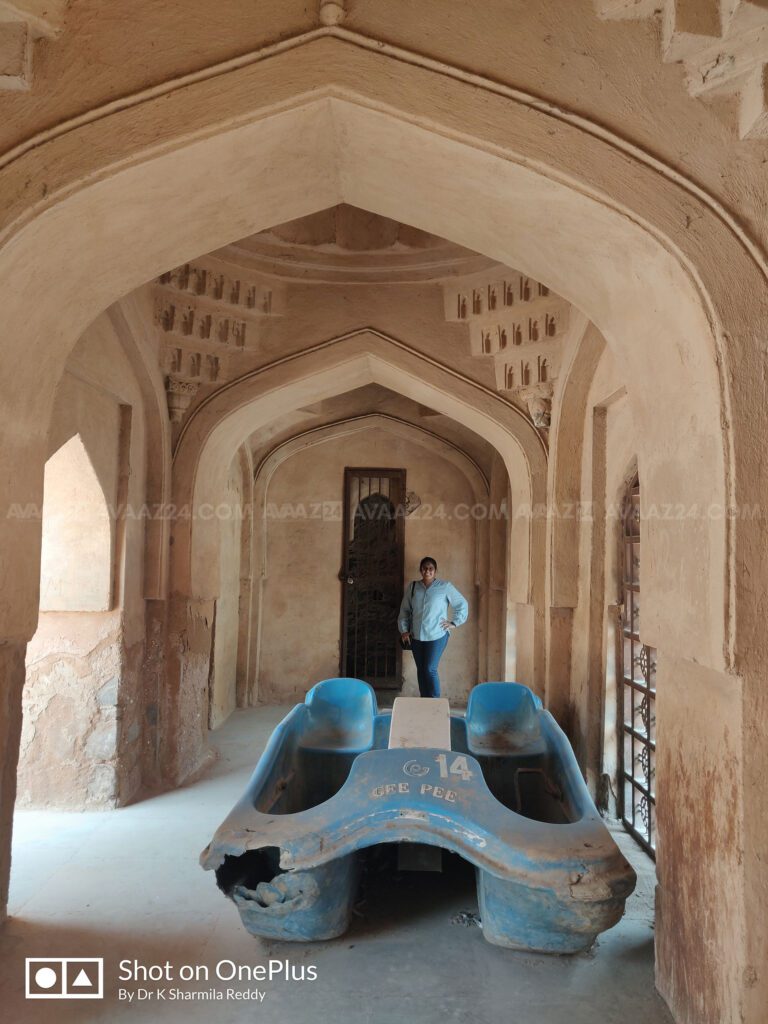 JAHAZ MAHAL- the venue of Phool Walon ki Sair
Jahaz Mahal has been the venue of annual Phool Walon ki Sair or Sair-i-Gulfaroshan. The origin of this secular festival dates back to late 18th century.
Mirza Jehangir, favorite son of Mughal Emperor Akbar Shah II was denied the right to be his successor in preference to his elder brother Abu Zafar (Later Bahadur Shah Zafar II) by the East India Company.
One day, when British Resident Archibald Seton met Akbar II at the Red Fort, the topic of succession came and the resident stated East India Company's position very firmly. Angry at this Mirza Jahangir fired at Seton. The fire missed, but Seton asked Mirza to apologize.
The Prince refused, which led to his arrest and exile to Allahabad in 1812.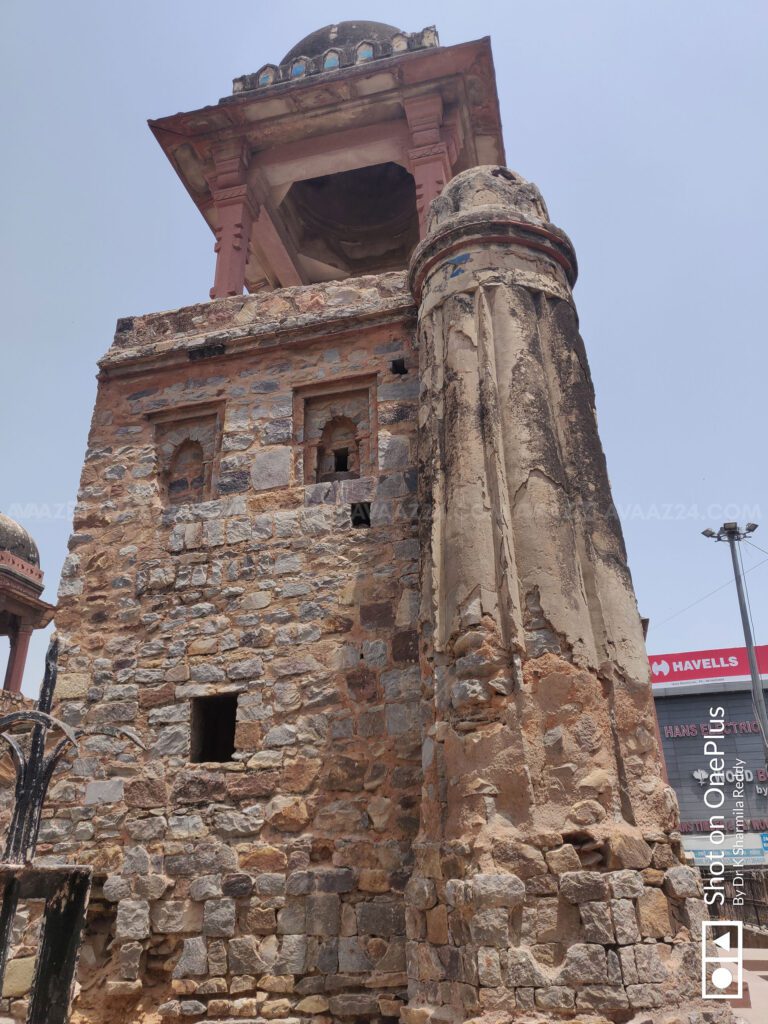 Then Mirza's mother Mumtaz Mahal (not Shah Jahan's Mumtaz) prayed at both Dargah and the temple. Provided that her son is released, she vowed to offer Chadar at the Dargah of Khwaja Qutbuddin Bakhtiar Kaki and a floral fan to Devi Joga Maya at Yogmaya Mandir.
As things turned out, Mumtaz Mahal's wish came true and Mirza Jahangir was sent back to Delhi. Thus, Phool Walon ki Sair is started from that point.
Since then, it has been observed as a symbol of communal harmony every year, in the month of September for three days.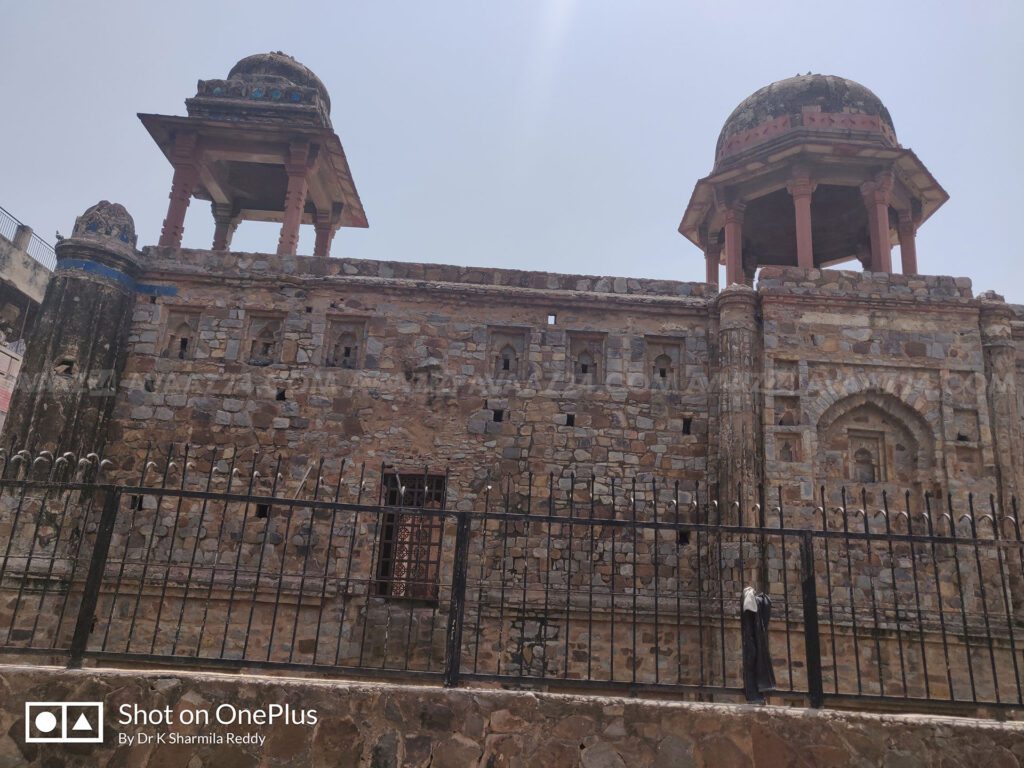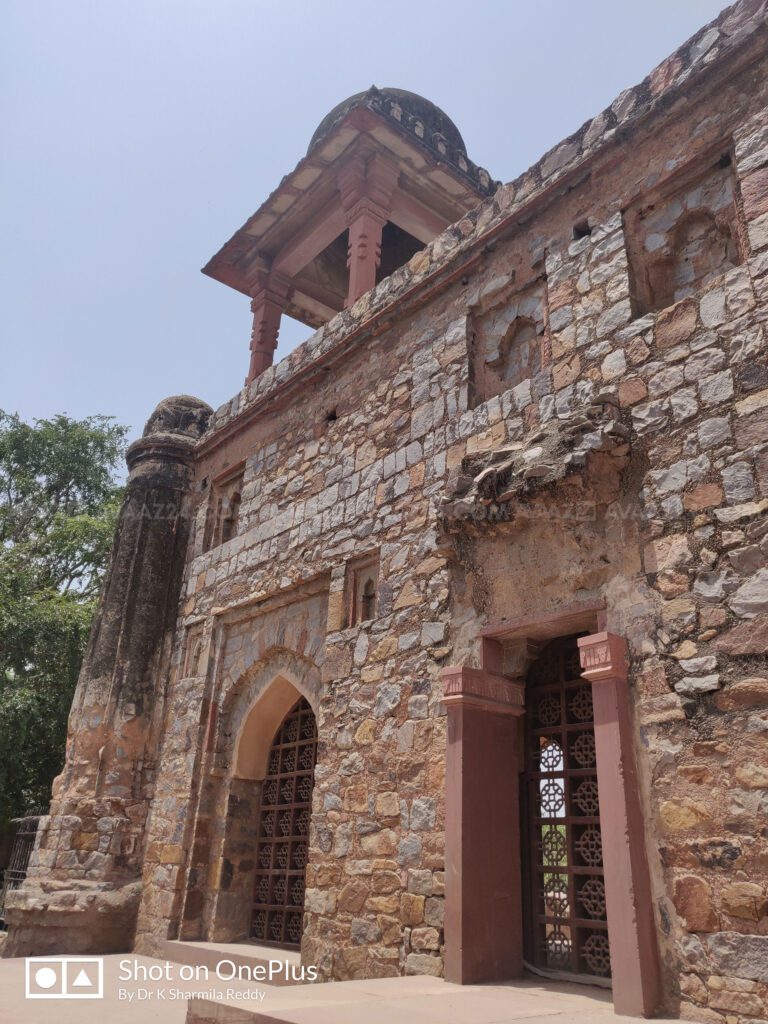 What happened to Mirza Jahangir later on? If he released back to Delhi, why did he die in Allahabad? Lets read more about him in the consequent article of this series- Tomb of Mirza Jahangir at Hazrat Nizamuddin.
JAHAZ MAHAL OF MANDU
Not to confuse with the Jahaz Mahal located at Mandu, Madhya Pradesh.
Mandu's Jahaz Mahal is a pleasure resort built by Sultan Ghias-ud-din Khalji in around 1469-1501 AD. It is in between the two artificial lakes (Kapur Talao and the Munja Talao).