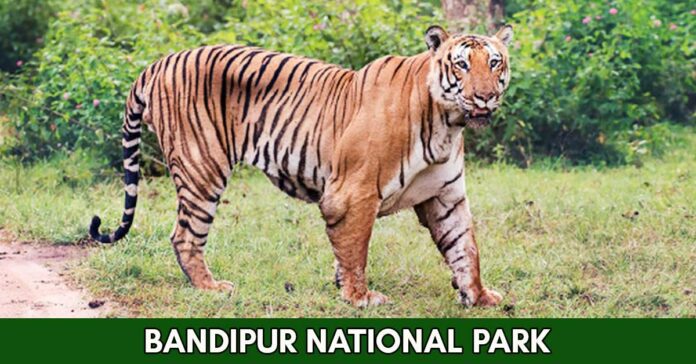 Bandipur National Park is a popular known for its wildlife sanctuary located in the state of Karnataka, India. It is the first national park in Karnataka. A safari in Bandipur National Park is an amazing experience for both wildlife enthusiasts and nature lovers.
The park is well-known for its diverse wildlife, which includes tigers, leopards, elephants, and a variety of bird species. Now lets get in brief about history of Bandipur National Park and Safari.
50th Anniversary of Project Tiger
The Project Tiger has successful completed 50 years Anniversary since its launch. According to Mangalorean, on April 1, 1973, India's then-Prime Minister Indira Gandhi launched Project Tiger in Bandipur to safeguard big cats and promote their conservation in India. Since then, the project has contributed to their population growth of Tigers and conservation efforts.
Recently during the first session of the 50th anniversary of Project Tiger, Prime Minister Narendra Modi announced the fifth-cycle summary report of the All India Tiger Estimation, which showed an increase in the tiger population to 3,167.
History
According to Wikipedia, in 1931, the Maharaja of the Kingdom of Mysore established the Venugopala Wildlife Park, a 90-square-kilometer (35-square-mile) sanctuary. The Bandipur Tiger Reserve was formed in 1973 as part of Project Tiger by expanding the Venugopala Wildlife Park by roughly 800 kms (310 sq. mi).
Bandipur National Park
Bandipur National Park was established in 1974 as a tiger reserve. It is a national park in southern Karnataka, approximately 230 kms south of Bangalore and around 75 kms south of Mysore. Moreover, it has recently been renamed Bandipur Tiger Reserve. It was declared as a national park in the year 1979.
It is one of India's most popular national parks, attracting a lot of visitors each year. The park is noted for its rich bio diversity and provides animal safaris, bird viewing, trekking, and camping options.
Bandipur Safari
Visitors interested in going on a safari in Bandipur National Park can schedule a guided trip with one of the park's authorised operators. Depending on the availability and interests of the tourists, the safari can be done on a jeep or gypsy.
Safaris in Bandipur National Park are often scheduled early in the morning or late in the afternoon, when the animals are most active. The safari is normally about 2-3 hours long.
06:45 AM to 7:45 AM
7:45 AM to 9:30 AM
2:30 PM to 4:00 PM
4:00 PM to 5:30 PM
5:00 PM to 6:30 PM
Tiger Reserve
Bandipur Tiger Reserve was established as part of Project Tiger in 1974. The main aim of this programme is to protect tigers in India. The reserve is located in the Western Ghats, a UNESCO World Heritage Site and a biodiversity hot spot.
ALSO READ: Cheetah gifted by Saudi Prince dies of heart attack at Hyderabad Zoo