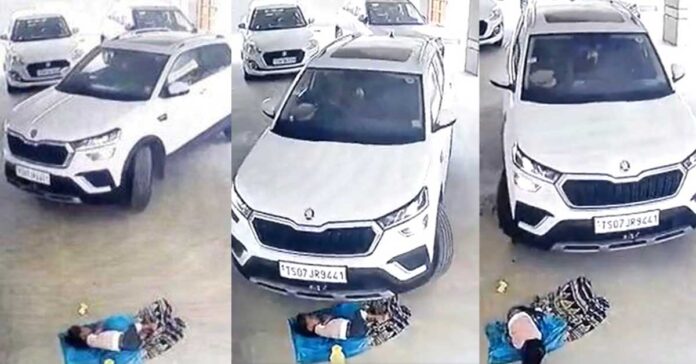 A SUV car ran over 3-year-old labour child is died when she was resting in the basement of an apartment in Hyderabad. This incident happened in Lecturers colony and a case was registered at Hayatnagar police station.
A complaint was registered from 22-year-old Kavitha, a native of Shabad mandal in Karnataka's Gulbarga, at 10 pm on Thursday regarding the incident. She said she came to Hyderabad, along with her children, in search of a livelihood.
According to India Today, she told police that around 2:30 pm. She had lunch with her children, a 6-year-old son, Basawa Raju, and a 3-year-old daughter, Laxmi. she said that her daughter could not bear the heat. And went to sleep in the basement of the nearby Balaji Arcade Apartment and around 3 pm. An SUV ran over her daughter while parking, adding that the 3-year-old girl succumbed to severe head injuries on the spot.
The incident was recorded in the CCTV of the building. The accused is identified as Hari Rama Srina, an interior designer, and he expressed regret during the inquiry, claiming that the child's covering prevented him from seeing her.
#Hyderabad: In a tragedy incident reported in Hayat Nagar RTC Colony, a 2 year old died after a car ran over it.

The mother works at a construction site and left the baby Lakshmi,in a nearby parking area. Unfortunately, a car ran over the baby, resulting in the child's death. pic.twitter.com/kq4eJ2mVie

— NewsMeter (@NewsMeter_In) May 24, 2023
ALSO READ: Hyderabad: Man kills live-in partner, stores chopped body parts in fridge