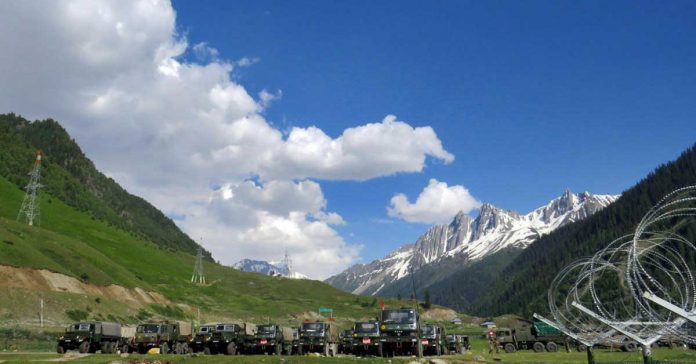 At least three-four Chinese troops were also killed in the violent face-off between Chinese and Indian troops in the Galwan Valley area of Ladakh on Monday night, as per sources. Defence sources privy to the details of the face-off said the Chinese side suffered at least three-four deaths.
An Indian colonel and two jawans were killed in a clash on Monday night with Chinese troops at Galwan Valley in Ladakh.
Army sources say the soldiers were not shot but were killed in a physical fight on Indian Territory that involved stones and batons.
The Indian soldiers also retaliated and china also suffered the same number of casualties.
A Colonel-rank officer, Santhosh Babu from Telangana and two soldiers of the Indian Army were killed in the violent face-off with Chinese troops in Ladakh.
According to an official statement of the Army, "During the de-escalation process underway in the Galwan Valley, a violent face-off took place yesterday (Monday) night with casualties on both sides. The loss of lives on the Indian side includes an officer and two soldiers,"
Meanwhile, China has officially confirmed the face-off but accused India of crossing the border. Chinese foreign ministry spokesman Zhao Lijian said Indian troops "crossed the border line twice provoking and attacking Chinese personnel, resulting in serious physical confrontation between border forces on the two sides." Nothing is mentioned about the casualties suffered by China.
However, contrary to this, a Chinese government spokesman said in a tweet,"Based on what I know, Chinese side also suffered casualties in the Galwan Valley physical clash. I want to tell the Indian side, don't be arrogant and misread China's restraint as being weak. China doesn't want to have a clash with India, but we don't fear it,"
Meanwhile, China had also asked for a meeting this morning to diffuse tensions. Talks between local military commanders are on since 7.30 am.
The sequence of events.
Clash between Indian and Chinese soldiers last night just as Chinese troops were getting ready to move away from a location as per the agreement reached.
Indian Commanding Officer (Colonel) assaulted with batons, stones.
Indian soldiers retaliate in close unarmed combat.
The assault lasted for several hours.
Soldiers from both sides separate after midnight.
3 Indian soldiers, including the Colonel, are killed in the clash.
"Significant" number of Chinese casualties.
Talks to de-conflict situation held at Patrol Point 14 in Galwan River region.
Precise location of the clash is unclear.
ALSO READ: Suryapet Army officer killed in a violent face-off  with Chinese army in Ladakh