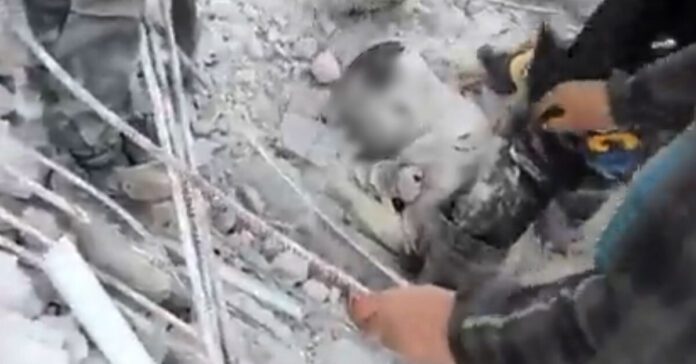 Turkey Earthquake: In the midst of chaos and destruction caused by the earthquake, many people lost their lives by the catastrophic earthquake.
Meanwhile, a video goes viral all over social media and the internet, which grabs all attention and respect.
In this video, it is heart rending to see a father found dead under the rubble while trying to protect his children during the earthquake. It is seen that he protected them from the falling rubble over the children in order to save them from the earthquake in Turkey.
He sacrificed his life to save his children's lives. Both father and his two children were pulled out of the rubble caused by the earthquake. Ironically both the father and elder child lost their life in this tragedy. However, the details of the younger child re still awaited.
Viral Video:
My hair stood up watching this… Fatherly love, sacrificed himself for his child, Ahmed Khabeer tweeted.
My hair stood up watching this… Fatherly love, sacrificed himself for his child. 😭💔
pic.twitter.com/ryAKJS2okI

— Ahmed Khabeer احمد خبیر (@AhmedKhabeer_) February 9, 2023
ALSO READ: Earthquake of magnitude of 7.8 rocks Syria, Turkey and Lebanon