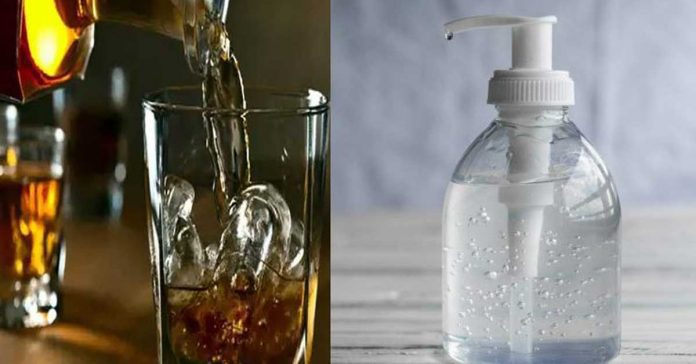 Ten people died after consuming sanitizer at Kurichedu in Prakasam district of Andhra Pradesh.
Reports said the drunkards mixed sanitizer with soft drinks after they were unable to get liquor in the last few days.
The deceased have been identified as Ramanayya, 30, Raja Reddy, 64, K Ramanayya, 65, Srinu, 26, Tirupati, 28, Rami Reddy,60 and four others, whose identity is yet to be established.
The locals had spotted Ramanayya and others consuming the mixture of sanitizers and soft drinks. He fell unconscious soon after he reached home. Though he was immediately taken to hospital, he was declared dead on arrival by the doctors.
Similarly, nine more persons died in the same manner on Friday and Saturday.
Superintendent of Police, Prakasam district, Siddharth Kaushal said the preliminary investigation has revealed some people have been consuming the mixture of sanitizers and soft drinks since liquor outlets were shut in containment zones due to COVID-19.
Police and health officials have repeatedly appealed to people not to consume sanitizers or syrups.
Desperate alcoholics have taken to consuming all kinds of substances in the last few weeks. There have been numerous reports of break-ins and thefts at liquor stores across the state during the Covid-19 pandemic.
ALSO READ: Man killed his mother and recorded it