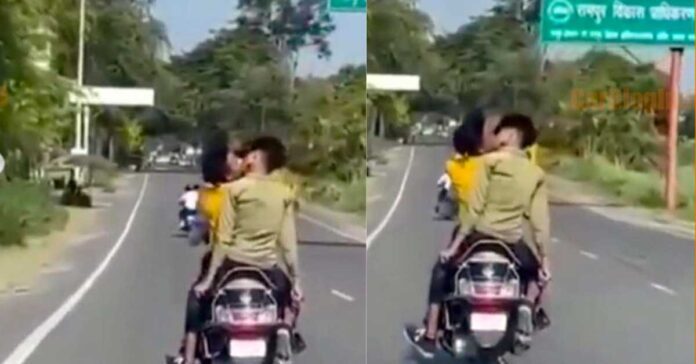 The viral video on social media shows the 2 boys kissing during their ride on a bike in Rampur district, Uttar Pradesh.
The visuals in a video clip of three boys on a piddly scooter on the road. In the video, one of the boys turned towards the back and kissed the other as soon as the video went viral on social media. The incident was reported from Rampur in Uttar Pradesh.
Viral Video:
Now only this was left…!
All the limits of open love have been crossed…!, Himanshu Tripathi tweeted.
अब बस यही बाकी रह गया था…!

खुल्लम-खुल्ला प्यार की पार हुईं सारी हदें…!#viralvideo #रामपुर pic.twitter.com/naBB0tGRpi

— Himanshu Tripathi (@himansulive) June 2, 2023
After the video gets viral on social media, Rampur police tweeted and replied that they were looking into the matter.
The tweet read, "The concerned (purportedly traffic dept.) have been directed to take necessary action regarding the tweet (translated)."
किये गये टवीट के सम्बन्ध में आवश्यक कार्यवाही हेतु संबंधित को निर्देशित किया गया है।

— Rampur police (@rampurpolice) May 31, 2023
ALSO READ: Delhi: Serial killer raped & killed over 30 children, sentenced to life