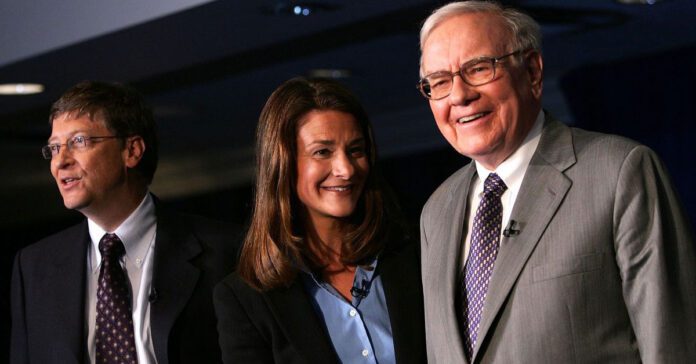 Warren Buffet was one of the three members of the foundation board. Bill Gates and Melinda Gates being the other two. He resigned as a trustee of the Bill and Melinda Gates Foundation.
However, the foundation said that it will announce plans in the month of July and talk about its leadership structure as it has to deal with the divorce of its two founders.
Bill and Melinda Gates revealed about their divorce after 27 years of marriage. Furthermore, they added that they would continue tp jointly run one of the largest charitable foundations in the world.
"For years I have been a trustee – an inactive trustee at that – of only one recipient of my funds, the Bill and Melinda Gates Foundation (BMG) I am now resigning from that post, just as I have done at all corporate boards other than Berkshire's", said Buffet.
Warren Buffet and his Shares
Buffet, is the chairman and chief Executive of Berkshire Hathaway. He said that he is halfway to reaching his goal of giving away the entirety of his shares in the conglomerate.
He also said that he's donating another $4.1bn in shares to five foundations. However, according to him the lion's share of his donation went to the Bill and Melinda Gates Foundation.
Buffet's donation amounted to nearly, $33bn to the foundation so far. It is a known fact that Warren's departure raises questions about the foundation's governance.
Warren has been actively discussing to strengthen our governance to provide long-term stability and sustainability for the foundation's governance and decision-making in light of the recent announcement of Bill and Melinda divorce.
It is important to know that the Bill and Melinda Gates Foundation has a trust endowment of about $50bn and around 1,600 employees, having funded work in 135 countries.
From the initiation of the Foundation, there have been calls to diversify the foundation's board. There was a wide criticism that the decision making is concentrated in very few hands at the foundation.
Melissa Berman, the President & CEO of Rockefeller Philanthropy Advisors, says, since Buffet is stepping down, there is a wide scope to think about the governance of the Foundation for the long run.
Bill and Melinda gates said in a separate statements on Wednesday that they were grateful for Buffett's leadership, generosity and friendship.
"His wisdom has been a guiding light through our foundation's second decade, and the things we have learned from him will continue to help us chart a way forward," said Melinda Gates.
On the contrary, Buffets did not address growing questions about the structure of the Gates Foundation's leadership. When the board members of Microsoft Corp felt that Gates, the co-founder was inappropriate to take decisions after it was revealed about his romantic relationship with a female Microsoft employee. Buffets did not comment on this too.
However, The Bill and Melinda Gates Foundation said that it is not investigating the allegations in the media. It was not sure about the allegations as it was made by "an anonymous former employee"
Buffet said, " I am clearly playing in a game that, for me, has moved past the fourth quarter and into overtime"
Buffet, who is 90 years old, resigned from all other corporate boards outside of Berkshire Hathaway. However, he has no plans to step down from his role as CEO of Berkshire.
ALSO READ: ED takes action on Nirav Modi, Mallya and Mehul Choksi