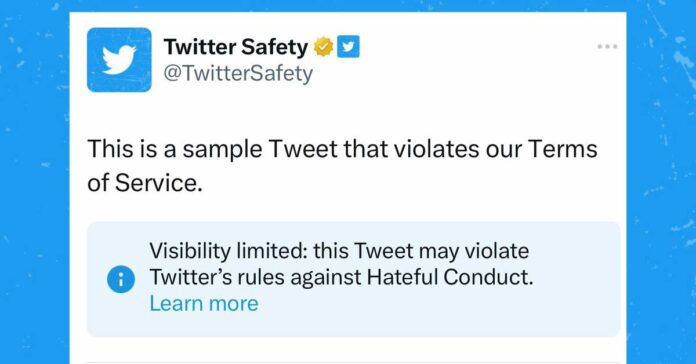 Twitter, the multi-blogging platform made an announcement regarding to add publicly visible label for tweets noticed as hateful and potentially violating its policies. It aims to inform users to know the company has limited the visibility. The announcement came on Monday in a blog post.
However it won't effect any user account. The tweets with these labels will be less visible on the platform.
Soon after Elon Musk, the International Billionaire took charge as Chief of Twitter, the company has changed drastically. It has updated many polices, laid-off many employees for efficient work. It also introduced 3 level badges with different colors to profile and recently Twitter logo 'Blue Bird' replaced by 'Doge'.
As per the Twitter blog post on Monday, "Restricting the reach of Tweets, also known as visibility filtering, is one of our existing enforcement actions that allows us to move beyond the binary a leave up versus take down' approach to content moderation," the company says.
Moreover the company will not put an Ad adjacent to content label.
According to The Tribune, these labels will initially only apply to Tweets that may violate the Hateful Conduct policy, the company intends to expand them to other relevant policy areas in the coming months.
The Twitter's 2.0 mission is to promote and protect public conversation. The company believes that users have right to express their views, opinions and ideas without any fear.
We've heard from many of you that you want to know what Freedom of Speech, Not Reach looks like in practice. This is the label that'll be displayed when we've limited the visibility of a Tweet. Keep the feedback coming! https://t.co/AUYDP2kYPi pic.twitter.com/BaJuSfcz0q

— Twitter Safety (@TwitterSafety) April 17, 2023