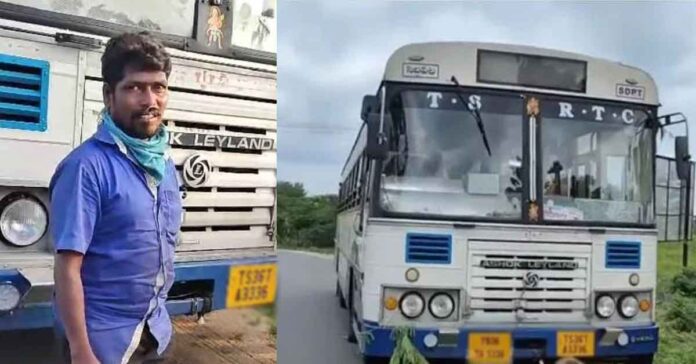 In a strange incident, a man stole an RTC bus from the Siddipet bus stand while the passengers were still aboard.
A man posed himself as a driver of Telangana State Road Transport Corporation (TSRTC) stole a bus and drove the vehicle along with passengers in Siddipet on Sunday night. He, however, abandoned the vehicle after driving for some distance.
According to the details of the passengers, the thief took the RTC bus parked at the Siddipet bus stand on Monday while the passengers were in it. The bus started from Sircilla and was supposed to reach Jubilee Bus Station. The driver parked the vehicle at the Siddipet bus stand for a dinner break. At that time an unknown person got into the bus driver seat and started driving.
He started the bus and rashly drove the vehicle. When the passenger asked about the conductor, he said the conductor would join midway. This made the passengers suspicious that he was not an RTC driver. After reaching Jillela Crossroad, the bus went off on the roadside when fuel ran out. He jumped from the bus and ran away. The passengers immediately called the police and informed them about the incident.
TSRTC officials have registered a complaint with the Police. Few passengers shot videos and pictures of the thief on their mobile phones.
The police reportedly identified the man and have taken him into custody. An investigation is underway.
RTC bus stolen from Siddipet
Bizarre incident, a #RTC #BusStolen from #Siddipet and took it to #Sircilla dist and while returning with #Hyderabad-bound passengers, the bus veered off the road at Jillella X road, after the fuel tank empty.
Passengers were shocked that a thief was driving the bus.#Telangana pic.twitter.com/Tw5mRc5rdg

— Surya Reddy (@jsuryareddy) September 11, 2023
ALSO READ: World's richest beggar, Bharat Jain has a net worth of Rs.7.5 crores